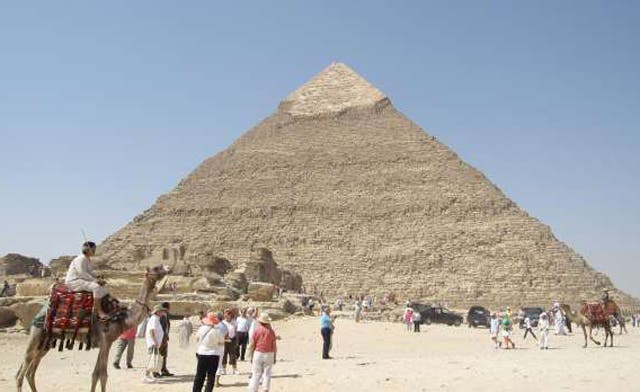 Egypt expects tourism to rebound this year to pre-revolution levels
Egypt's tourism minister expects the number of tourists to rebound this year to pre-revolution levels of 14.5 million after slumping in 2011 following an uprising that forced out President Hosni Mubarak and brought much of Egypt's economy to a halt.

There were already signs of improvement with tourist arrivals rising 40 percent in the first four months of this year from a year earlier, Mounir Fakhry AbdelNour said.

Tourism used to account for more than a tenth of Egypt's gross domestic product (GDP) before the uprising, and it employs an estimated one in eight workers in a country where anger over high unemployment triggered the uprisings.

"My aim for this year is to see the number of tourists to Egypt this year rise to 2010 levels," AbdelNour told reporters during a press conference during a visit to Dubai.

"The growth in tourism numbers this year will be driven by new products we are offering like the reopening of the Nile cruise from Cairo to Aswan ... I think during May and June we will be weak due to the presidential elections but later will (see a) rise."
Presidential elections are due to finally take place next month, more than a year after Mubarak's departure.

In 2010, around 14.7 million tourists visited Egypt generating around $12.5 billion, but their numbers slumped to 9.8 million visitors in 2011 generating $8.8 billion, said AbdelNour.

"Given that prices of room rates have dropped since the time of the uprising we expect that revenues this year will be lower compared to 2010," he said without giving further details. Average spending per tourist fell to $72 a day last year, from around $85 a day in 2010, he said.

One bright spot for Egypt has been healthy numbers of Russian and Eastern European tourists, who have not been deterred by instability in the region.

Asked if the growing influence of Islamists in government would affect tourism, and lead to rules that would ban alcohol sales and outlaw mixed bathing and bikinis in popular resorts, AbdelNour was optimistic that the industry would not be affected.

"I don't think that any political leader with any ideology would take action against that would harm this industry's growth," he said.