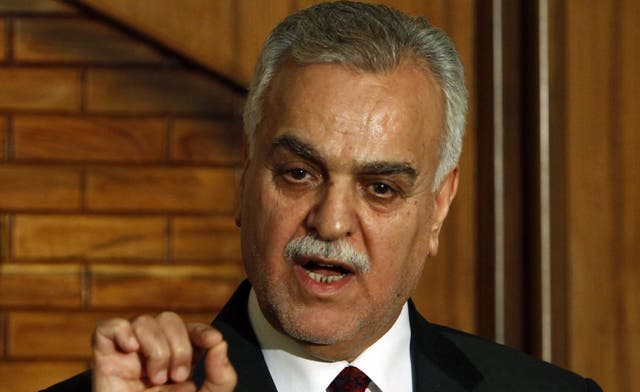 Trial of Iraq's fugitive VP Hashemi over death squad charges postponed
The scheduled trial of Iraq's fugitive Vice President Tareq al-Hashemi and several of his bodyguards over charges of running a death squad has been postponed to next Thursday, Al Arabiya correspondent reported.

The trial was schedulked to take part on Thursday. Hashemi has dismissed the charges as politically-motivated.

Hashemi, the country's top Sunni official, will not attend the court in Baghdad, having left Iraq weeks ago.

The charges were leveled in December after U.S. troops completed their pullout, sparking a political crisis that saw Hashemi's bloc boycott cabinet and parliament over accusations Prime Minister Nuri al-Maliki was monopolizing power.
Hashemi and some of his guards were on Monday charged with killing six judges, as judicial spokesman Abdelsattar Bayraqdar put the overall number of accusations against the group at about 150, according to AFP.

Bayraqdar, who said further charges could still be filed, did not provide a breakdown of the accusations, or how many Hashemi himself faces.

He said that around 13 of Hashemi's guards had been released for lack of evidence, leaving some 73 others.

Next Thursday's trial will tackle the "assassination of the general director in the national security ministry, an officer in the interior ministry and a lawyer," according to Bayraqdar.

After the charges against Hashemi were filed, the vice president, who says they are politically-motivated, fled to the autonomous Kurdistan region in north Iraq, whose authorities declined to hand him over to the central government.

They then allowed him to leave on a tour of the region that has taken Hashemi to Qatar, Saudi Arabia and now Turkey.

Iraq's delicately-balanced ruling coalition of Shiites, Sunnis and Kurds began to strain in December after U.S. troops left and the government tried to remove Sunni Deputy Prime Minister Saleh al-Mutlaq and made the accusations against Hashemi, according to Reuters.

Hashemi has offered to stand trial in the city of Kirkuk -- controlled by Sunnis and Kurds -- but said he will not face the charges in Baghdad because he believes the courts are controlled by the Prime Minister, Maliki.