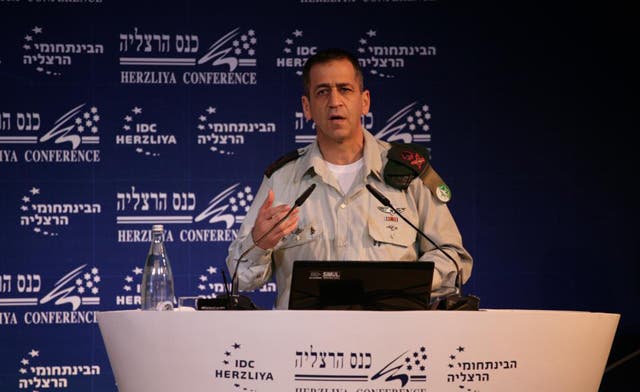 Israel no longer wants to 'preserve' the Syrian regime: report
Israel has changed its stance on the future of the regime of Syrian President Bashar al-Assad, an Israeli newspaper reported on Wednesday citing an Israeli military chief.

A report by Israel's Haaretz daily quoted a European diplomat, close to the talks held by the Israeli military intelligence chief, Maj. Gen. Aviv Kochavi's in the United States, as saying that the Israeli intelligence community has changed its stance on Syria and now sees the Jewish state as "better off" if Assad's regime was toppled.

Israel believes Assad's fate is sealed, and the only question is how long his regime will last before it is eventually toppled, Kochavi said, according to the diplomat.
Two weeks ago, Kochavi was on a secret visit to Washington and the U.N. headquarters in New York, where he discussed Iran's nuclear program, developments in Syria and Hezbollah's increasing influence in Lebanon. In Washington, he met with senior White House and State Department officials, as well as senior officials in the Defense Department Intelligence Agency and the CIA.

Israel, however, fears that Islamists will seize the opportunity, amid the roiling Syrian crisis, and hijack the Syrian government if Assad's regime was toppled.

The Jewish state, which is closely monitoring events in Syria, dreads the aftermath of a toppled Syrian regime and that it could see the Syrian Golan Heights fall in the hands of terrorist groups like al-Qaeda.

Israel has warned of similar dangerous security vacuum in the Sinai Peninsula in Egypt.

In early May, Israel warned Egypt that it has to control the rising unrest in Sinai if it wants to preserve peace with Israel.

(Writing by Dina al-Shibeeb)