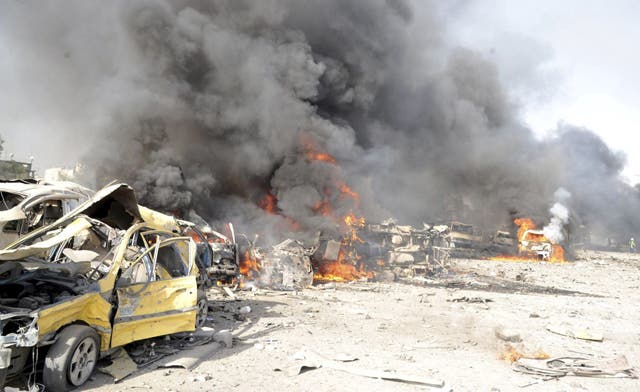 Syrian troops pound Rastan as U.N. team brokers swap between regime, rebels
Regime forces Wednesday pounded rebel bastion Rastan, in central Syria, at an average rate of "one shell a minute," said a monitoring group, adding that 11 people were killed across the country amid reports that a U.N. has brokered an exchange between forces loyal to President Bashar Assad and opposition fighters.

As many as 25 people were reported to have been killed by the gunfire of Syrian forces on Tuesday across the country, activists told Al Arabiya.

Besieged by regime forces, Rastan is home to a large number of rebel fighters, according to opposition sources.
Most of Rastan's residents have fled after months of fighting, but regime forces have been unable to regain control of the town. On May 14, 23 regular troops were killed in fighting during a failed assault.

In the southern province of Deraa, one civilian was shot dead near an army checkpoint at Inkhel, said the Syrian Observatory for Human Rights, according to AFP.

In nearby Sheikh Meskin, several youths were arrested, according to the Britain-based watchdog.

Another civilian was killed by regime forces in the northern city of Aleppo, while in Qusayr in the central Homs province, a third civilian was shot dead by a sniper, the monitoring group added.

In the suburbs of Damascus, a blast killed three people on the international airport road, the Observatory said, without specifying whether they were civilians or soldiers.

A loud explosion was heard in the capital Damascus, the Observatory said, without providing any further details on the blast.

Other blasts were heard in several Syrian provinces during the night, including in Harasta and Duma, two suburbs of the capital that have seen fierce fighting between regime and rebel forces in the past few days.

Fighting has grown increasingly violent around Damascus, Aleppo and northwest Idlib, despite the presence of U.N. truce monitors on the ground.

More than 12,000 people have been killed in Syria since a revolt broke out in March last year, prompting the regime to launch a fierce crackdown on dissent.

Meanwhile, a U.N. team in Syria said it has brokered an exchange between forces loyal to Assad and opposition fighters seeking to topple his regime.

The U.N. said in a statement late Tuesday that government forces released two detainees from the town of Khan Sheikhoun in northwest Syria in exchange for permission to retrieve a destroyed tank, according to The Associated Press.

Video posted online showed members of the U.N. team interacting with both sides and a large trailer removing a charred tank from the town.

More than 250 U.N. observers are in Syria trying to salvage a peace plan to end the country's 14-month-old crisis. But a cease-fire meant to start last month has never fully taken hold, undermining the rest of the plan.