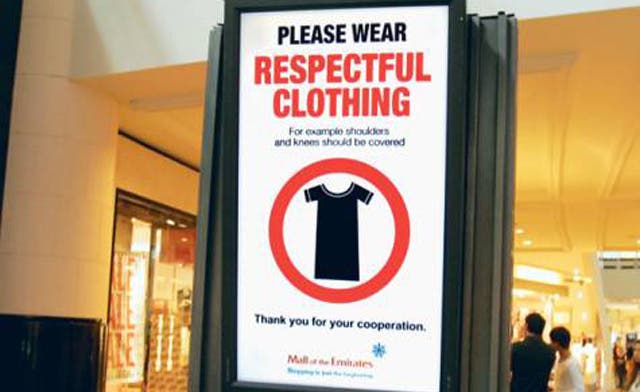 Emirati women launch 'dress code' campaign to 'save culture'
A campaign launched in the United Arab Emirates by local women on how to dress "decently" in malls has captured media attention and spurred discussion in the Gulf nation among Emiratis and foreigners alike.

While some brushed off the UAE Dress Code campaign as an attack on personal freedoms, others have welcomed it, saying that some women in the country have "taken [their style of dressing] too far."

"We respect personal freedoms, but this is our culture and an existing policy in the UAE needs to be applied," Hanan Al-Rayes, one of the founders of the campaign, told Al Arabiya.
Although malls have posted signs asking visitors to dress appropriately, there are no penalty guidelines for violators.

Police in the UAE can take action against a person who is wearing no more than a swimming suit at a public place, in accordance to the law.

Rayes who is working hard with her friend Asma al-Muhairi to raise awareness on how to dress in malls, likened her social media campaign – which builds on the respect of the Arab and Islamic cultural values – to that of France, which preserved its secular culture by banning the face veil worn by Muslim women.

"I can't argue against France banning the niqab [face veil], this is their law and people should respect their laws. There are dress codes when you go to an interview, conferences … one cannot be presentable wearing pajamas for example," she added.

Rayes, who referred to the fact that smokers adhere to policy by not smoking inside a mall, said she does not understand why the same is not done in regards to the dress code.

She said she knows many people who speak against indecently dressed people at malls but they do not speak out.

"I do not know why they remain quiet. This is what saddens me," she said.

She became motivated to urge people to go ahead and file complaints.

She said her group has filed complaints with three malls and the only mall that replied was the world's biggest, Dubai Mall. The mall said "everything is under control," a response Rayes dismissed as not serious enough.

The dress code campaign "is simple and straightforward," she emphasized.

"We are not looking to create any media rancor and drive foreigners away … All we are looking for is to represent our country and culture."

The campaigner said she feels embarrassed when she goes to the mall with her nephews and nieces and sees ladies dressed in revealing clothes. "You can control [what youngsters watch on] TV but when you are inside a mall, you can't," she added.
Twitter followers
The UAE Dress Code campaign handle on Twitter has, in one week of its inception, already attracted 1,075 followers who want to see more enforcement of a dress code in malls where many families, expat or native citizens, go to shop or spend the weekend.

Asked if the campaign's followers are mainly Emiratis or Arabs, Rayes said: "People of different nationalities, like Westerners and Indians are supporting the campaign," she said.

She hailed the campaign's Twitter followers, who have been tremendously helpful in spreading the message. "We have one follower who gives us consultative help and tells us on the best way to act; another follower managers our Twitter account," she said.

"But they want to see the change now and the campaign needs time for it to work and bring fruition."
Previous protests
This is not the first time Emiratis have waged a campaign against the way people dress in the country.

Director of Port Police Station, Lieutenant Colonel Abdullah al-Mazyoudi, told the Dubai-based newspaper Gulf News, that around 259 people had to sign an undertaking for dressing inappropriately on the beach in the first four months of 2012.

"These people were sunbathing or swimming in their underwear, which when wet becomes see-through, and they appear as if they were not wearing anything, or they removed part of their bathing suite," he said.

On the other hand, 2,837 people were also made to write an undertaking for going to the beach fully clothed.

"People in swimming areas should not be wearing their full clothes and just watch others, because there are rules for going to the beach, and while undressing is not encouraged, so is staying fully dressed and watching or harassing other beachgoers," he added.