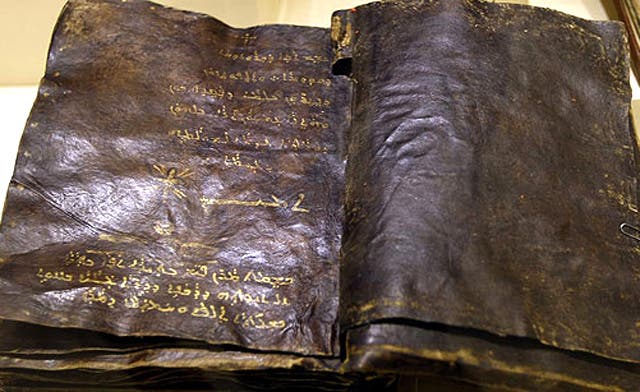 Jesus was mortal, never crucified, analysis of controversial gospel claims
A 1,500-year-old Bible reportedly states that Jesus was a mortal human and was never crucified, in claims deemed to challenge the core principles of Christianity, according to media reports this week.

The Gospel of Barnabas, which analysts believe is an addition to the original gospels of Mark, Matthew, Luke and John, attracted attention earlier this year for suggesting that Jesus had foretold the coming of the Prophet Mohammed.

In February, the Vatican officially requested to see the book, which Turkey had discovered during a police anti-smuggling operation in 2000.
This week, translated quotes from the document – originally written in Syriac, a dialect of Aramaic – reportedly state that Jesus said: "I confess before heaven, and call to witness everything that dwells upon the earth, that I am a stranger to all that men have said of me, that I am more than man.

"For I am a man, born of a woman, subject to the judgment of God; that live here like as other men, subject to the common miseries," the Y-Jesus U.S.-based online magazine reported in an analysis of the Gospel of Barnabas.

The statements, if proven true, would effectively deny Jesus' deity and reject the Trinity, the Christian doctrine which defines God as three divine persons: the Father, the Son (Jesus Christ), and the Holy Spirit.

Also, the Gospel of Barnabas "also presents Judas Iscariot as the one who died on the cross instead of Jesus, whereas in the New Testament, Judas betrays Jesus," Y-Jesus reported.

The statement seemingly challenges the Christian message, which is built upon the death of Jesus as the Savior for the sins of Christians and his resurrection as the hope of eternal life. It supports, however, the Muslim belief that Jesus' death on the cross never occurred.

St. Barnabas is traditionally identified as the founder of the Cypriot Church, an early Christian later named an apostle.

But Y-Jesus also raised questions over the authenticity of the gospel, adding that "Barnabas couldn't have written it; he lived at least 400 years before its date of a.d. 500."

The report added that even Islamic scholars have questioned its legitimacy.

"Many Islamic, as well as Christian and secular scholars label the Gospel of Barnabas a forgery," adding that no Muslim or Christian writer referred to it until the fifteenth or sixteenth century, while the gospel "cites historical facts that didn't exist until hundreds of years later."

The text, reportedly worth $22 million, is said to contain Jesus' prediction of the Prophet's coming but was suppressed by the Christian Church for years for its strong resemblance to the Islamic view of Jesus, Turkish culture and tourism minister Ertugrul Gunay told the the Daily Mail in February.

"In line with Islamic belief, the Gospel treats Jesus as a human being and not a God. It rejects the ideas of the Holy Trinity and the Crucifixion and reveals that Jesus predicted the coming of the Prophet Mohammed," the newspaper reported.

"In one version of the gospel, he is said to have told a priest: 'How shall the Messiah be called? Mohammed is his blessed name.'

"And in another, Jesus denied being the Messiah, claiming that he or she would be Ishmaelite, the term used for an Arab," the newspaper added.

The gospel had remained closely guarded by Turkish authorities before being handed over to the Ankara Ethnography Museum where it will soon be put on show.

A photocopy of a single page from the leather-bound, gold-lettered book, penned in Jesus' native Aramaic language is reportedly worth about $2.4 million, according to the Daily Mail.

But further skepticism over the authenticity of the ancient handwritten manuscript arose.

Protestant pastor İhsan Özbek has said this version of the book is said to come from the fifth or sixth century, while St. Barnabas had lived in the first century as one of the Apostles of Jesus.

"The copy in Ankara might have been written by one of the followers of St. Barnabas," he told the Turkey-based Today Zaman newspaper earlier in 2012.

"Since there is around 500 years in between St. Barnabas and the writing of the Bible copy, Muslims may be disappointed to see that this copy does not include things they would like to see … It might have no relation with the content of the Gospel of Barnabas," Özbek added.

But suspicions could soon be laid to rest.

The real age of the Bible, one of the major indicators which could confirm or disprove its legitimacy, could soon be determined by a scientific scan, theology professor Ömer Faruk Harman told the Daily Mail, possibly clarifying whether it was written by St. Barnabas or a follower of his.


(Written by Eman El-Shenawi)