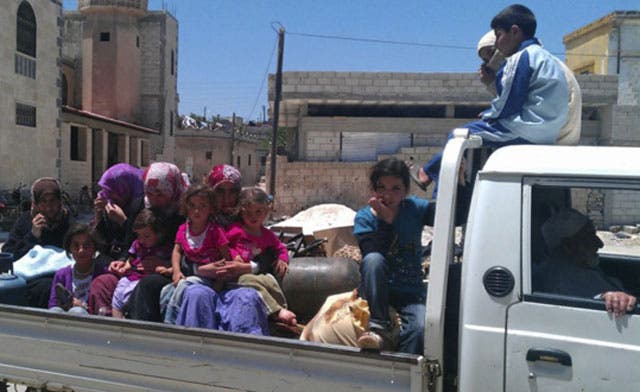 At least 100 people killed in new 'massacre' by Syrian regime forces: opposition
Regime forces killed about 100 people, including many women and children, in a "massacre" in Syria's central Hama province on Wednesday, the opposition Syrian National Council (SNC) told AFP.

"We have 100 deaths in the village of Al-Kubeir ... among them 20 women and 20 children," said Mohammed Sermini, spokesman for the coalition, which accused the regime of being behind the "massacre."

Other sources also reported that a "massacre" had taken place in the same area, including opposition activists and the Syrian Observatory for Human Rights, which said 87 people were killed.
The "new massacre" was carried out at a farm by the pro-regime shabiha militia armed with guns and knives after regular troops had shelled the area, the Britain-based Observatory said in a statement.

"What is certain is that dozens of people died, including women and children," the watchdog's Rami Abdel Rahman told AFP.

Meanwhile, activists told Reuters that some of those killed in the village were stabbed to death and that at least 12 bodies had been burned.

Both Sermini and the Observatory urged U.N. observers to immediately head to the region to investigate the latest atrocity in Syria's 15-month uprising against the regime of President Bashar al-Assad.

At least 108 people were killed in a two-day massacre that began on May 25 near the central town of Houla, most of them women and children who were summarily executed, according to the United Nations.

Syria's 15-month revolt against President Assad's rule has grown increasingly bloody in recent months, raising concerns the country may be slipping towards civil war.

Syrian forces had been shelling Kubeir and the nearby village of Maazarif, which are around 20 km (12 miles) from the central city of Hama.

Both massacres have happened in the presence of United Nations observers, a 300-strong force sent into Syria to observe a ceasefire deal brokered by international envoy Kofi Annan. The truce was hardly observed by the government or the rebels, who last week said they would no longer honour the ceasefire because of recent killings.

There was no comment from the government, and events on the ground are difficult to verify as Syria tightly restricts access to international media.