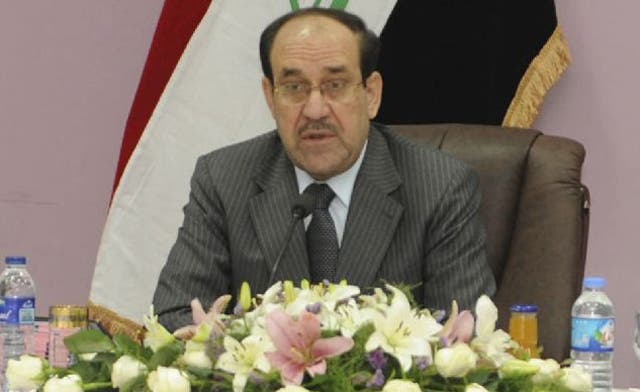 Maliki enemies battle to vote him out of office
Ask Iraq's Sunni, Kurdish and even some Shiite leaders these days what they think of Prime Minister Nuri al-Maliki, and the rhetoric is likely to be shrill: Many call him a dictator, autocrat or even a new "Saddam" who needs to be voted from office.

For the second time since American troops left last December, Maliki is wading through a crisis with the Shiite, Sunni and Kurdish blocs in his government at each others throats in a feud that risks spilling from politics into sectarian violence.

A wily political survivor, Maliki has so far emerged unscathed from the unrelenting melee since the government was formed 18 months ago. Now his foes want to test his survival skills to the limit with the threat of a vote of no confidence.

If this vote does come before parliament it will be the most serious challenge in Maliki's six years in office, potentially collapsing a fragile powersharing deal. But even that outcome is unclear: His foes agree they dislike him, but they disagree on everything else, not least on who would replace him.
And in a country of often fickle political loyalties, even some Maliki foes question whether they have the backing for a vote − or the stomach for its messy aftermath. Those divisions hand the embattled Shiite leader more room to fight on for now.

Iraq's crisis is watched closely by neighbors, Turkey, Gulf Arab states Qatar and Saudi Arabia and their rival, Shiite power Iran, countries that have often dipped into the country's sectarian-tinged politics to back or urge on one bloc or another.

"There will be complications, because the blocs don't have any dialogue," veteran Kurdish lawmaker Mahmoud Othman said. "Everyone uses their cards against the other, so the question will be asked in an atmosphere of animosity, and it will not be easy."
Crisis after crisis
The departure of the last American troops in December helped peel back the veneer over the deep splinters in Iraq's cross-sectarian government that took almost a year of backroom haggling to cobble together after contested 2010 elections.

Maliki was engulfed in crisis that threatened to bring down his government after a court sought to arrest Sunni vice president, Tareq al-Hashemi, and lawmakers were told to dismiss Sunni deputy prime minister Saleh al-Mutlaq who branded Maliki a dictator.

The quagmire around Maliki has only thickened since.

On one flank, Hashemi's Sunni-backed Iraqiya bloc, though increasingly splintered, is rustling up support from other blocs for the no-confidence move against a prime minister they say is increasingly authoritarian.

To the north, Iraq's autonomous Kurdish region is testing Maliki's mettle by cutting off its oil exports and hinting at a full-scale breakaway from Baghdad after accusing him of amassing power at the expense of Kurds and Sunni minorities.

Even within his Shiite alliance, Maliki is under fire from Moqtada al-Sadr, the populist cleric who helped re-elect him in 2010. His Sadrist movement has begun aggressively flirting outside the Shiite alliance and calling for Maliki to go.

Many Sunni Iraqis and Kurds believe Maliki is shoring up his position, failing to live up to agreements to share power, especially by cementing his control over the key defense and interior ministries.

But forming a lasting alliance against Maliki looks tough. Iraqiya − leading the no-confidence charge − is splintered into at least seven factions, including one breakaway group of 26 lawmakers who oppose the vote campaign.

Kurdish blocs are also split between supporters of Iraqi President Jalal Talabani, a Kurd who has urged conciliation, and Kurdistan's President Masoud Barzani, whose clash with Maliki seems at times a personal battle.

"The problem for the opposition to Maliki is that all that unites them is opposition to Maliki. And because they can't offer anything more positive, the majority, and those who sit on the fence, will ask why should we change?" one diplomat said.

"With everyone else running around, he becomes the point of stability."
Tough electoral maths
Maliki, who rose through the ranks of the Shiite Islamist Dawa party from spokesman to lawmaker and once fled into exile from Saddam Hussein, has shown himself to be a shrewd political operator even as brawling factions try to gather against him.

The jockeying could be just posturing as political blocs seek to position themselves before provincial elections at the end of this year and the parliamentary race in 2014.

Still, the mathematics of getting a vote of no confidence through parliament look complicated.

Under the constitution, the president can call for a vote of no confidence, which requires 164 votes out of the Congress' 325 members to pass.

Sadrists claim to have collected petitions from more than 176 lawmakers, to pressure Talabani to start the process. But some Maliki supporters see Iraqiya with only 50 votes of its own, which even joined with 39 Sadrists and half the Kurdish 57 seats would leave them short.

Talabani's office is checking the validity of signatures Maliki's opponents says they have collected to push for a vote. But in a signal of tough legal challenges they will face, Maliki is already claiming fraud among the signatories.

Getting past the non-binding petition to an actual vote with a quorum in the parliament is a more concrete hurdle, if Maliki's opponents can persuade Talabani to call for the ballot.

"Based on the dismal average attendance record of the Iraqi parliament, it is hard to see how today's political constellation would translate into more than 150 to 160 votes against Maliki in parliament," said Reidar Visser, editor of the Iraq website www.historiae.org.

While the parties wrangle over the vote, Iran, which helped rally Shiite parties behind Maliki in the past, maybe more keen on the status quo now, especially with no predictable end to the violent revolt in Syria, Tehran's key Arab ally.

Iranian officials have visited Talabani to push for conciliation, and Sadr left on Tuesday to Iran where he will be urged to curb his anti-Maliki campaign, senior Shiite lawmakers familiar with Tehran's approach said.

For Kurdish lawmakers, their position is also complicated by the dispute over oil and land between the Iraqi Arab central government and Kurdistan. They must weigh joining with Iraqi Arabs against potential gains for disputed territories.

Even the names forwarded to replace Maliki from his National Alliance are divisive. They include former prime minister Ibrahim al-Jaafari, who many Sunnis see as sectarian and who was criticized by the United States, and former vice president, Adel Abdul-Mahdi who lacks broad support.

According to the constitution, should Maliki lose a vote, a caretaker government would follow, ushering in chaotic negotiations over a new administration − a scenario that makes even some Iraqiya chieftains queasy about a vote.

"No one wins if we go ahead with this," said one senior Iraqiya leader. "We will just enter into a whirlpool, and under a caretaker government, everyone will be a loser."