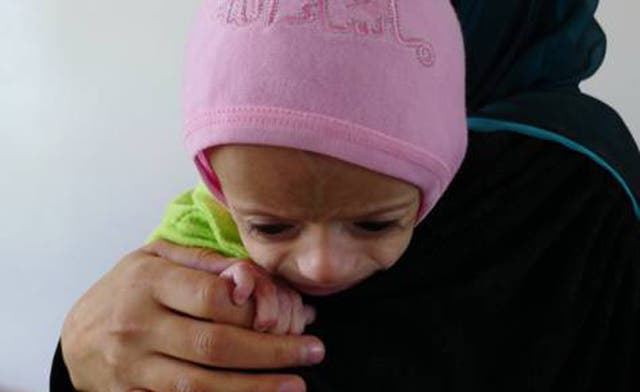 State of malnourished Yemeni children reaches crisis level
A quarter of a million malnourished children in Yemen will die "within months" unless proper food is delivered to them by aid officials, the Gulf News reported on Thursday, in shocking claims which spotlight the prospect of a major humanitarian crisis in the Middle East's most impoverished country.

"The malnutrition situation in Yemen has reached crisis levels," Unicef announced in a recent statement, while its local director, Geert Cappelaere said: "The situation is dire."

Yemen has experienced years of economic neglect, with foreign funding mostly requested to cover security threats, not poverty. Political analysts and international aid agencies alike have criticized the lack of funds spent on genuine societal development, particularly during the decades-long rule of former president Ali Abdullah Saleh.
"Yemen has the second highest level of stunted growth, second only to Afghanistan," Cappelaere said. "In children under five, 58 per cent are severely malnourished," he added, according to the newspaper.

It's a dismal picture for Yemeni society that has been promised economic reforms by their new leader, Mansour Hadi, with assurances of better living standards for the country's younger generation.

In fact, the guarantees that any new foreign aid funds will be spent on social development perhaps still aren't there; after all, the Yemeni revolution only saw the overthrow of one man and not the whole government.

Earlier this week, efforts from Emirati leader Shaikh Khalifa Bin Zayed al-Nahyan were announced; to distribute 500 million dirhams ($136.1 million) in emergency aid towards buying food items and supplies in Yemen.

Such supplies included rice, flour, sugar, oil, baby milk, canned food ─ a child's basic needs.

Dr. Lina al-Aryani, the director of the nutrition department in Yemen's Ministry of Health wants the government to allocate a permanent budget to her department in case international aid stops.

"Also, we face a problem with the governors of some provinces who are uncooperative and ignorant," she told Gulf News in a report on Thursday.
But a key concern looms, possibly jeopardizing any international efforts to help the children of Yemen.

"The lack of public awareness makes it difficult to completely wipe out under-feeding of children," the newspaper report stated.

Mainstream reporting on the poverty crisis in Yemen, let alone the country's famished children, is scarce when compared to the coverage on the famine in Somalia, for instance, among other conflict-ridden countries in Africa.

Identifying with this concern, Dr. Faiza Salman Bin Naji, who heads a small unit for treating acute severe malnutrition at Mukalla Mother and Children Hospital, said that people within Yemen, even, are not fully aware of crisis.

"We face many problems while treating malnourished children," she told Gulf News. "Many families irregularly come to our unit. They just come once or twice and when they feel that their children are improved they desert us.

People have false information about malnutrition. They think it is caused by fever or cold."

Bin Naji also said that many families are feeding their children poorly nutritious food, and this of course is down to poverty.

"Poverty is another factor that causes the spread of malnutrition. Since they're unable to buy milk, families feed their infant with water and sugar. Other families mix the milk with a lot of water," she added.

The country has also been hard hit by the recent global food crisis and ongoing global recession due to its high dependency on oil exports and food imports which took a hit during the political unrest in 2011.

But while social development of the country is a prioritized goal for the new government, the prospect still induces renewed fears over whether aid money will ever reach those Yemenis who protested last year to overthrow Saleh.

They protested in the hope of banishing poverty and hunger, aiming to welcome equality and change.

Instead, their role as the poorest and most food insecure country in the region continues to strengthen, with no immediate government plans to tackle the looming humanitarian catastrophe.

(Written by Eman El-Shenawi)