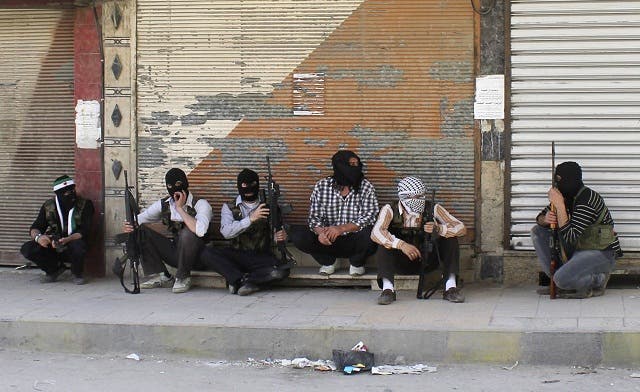 Syrian rebel army briefly seizes air missile base; regime helicopters fire on towns
Syrian rebels said on Monday they had briefly seized control of a strategic army base and threatened to fire its surface-to-air missiles at President Bashar al-Assad's palace, but were forced to withdraw by an army counter-attack.

With the help of 22 sympathetic soldiers inside, rebels said they overran the al-Ghanto base and looted machineguns and bullets - but no missiles - before the army rained down artillery and forced them out of the station, close to the central town of Rastan.

"This radar, these vehicles and those rockets were seized by the Free Syrian Army," said Captain Abdullah Bahboh in a video posted on YouTube, which shows him pointing at surface-to-air missiles and military trucks at the captured base.


The rebel captain was surrounded by young men who brandished their weapons and kissed each other to celebrate their audacious but short-lived conquest.

"These rockets are now directed at the presidential palace and we warn (President) Bashar al-Assad that if he doesn't give up his throne, we will launch these rockets," he said.

Bahboh said the attack on the base was revenge for massacres by Assad's forces, whom the United Nations accuses of killing at least 10,000 people during a 15-month crackdown on a pro-democracy movement that has developed into an armed uprising.

"With the coordination of 22 soldiers and officers in the 743rd Air Defense Brigade, we took the base and seized weapons in the early hours of Sunday June 10th," said Bahboh, who referred to himself as head of the rebel military office for northern Homs province, where the base is located.

The video shows three Syrian army prisoners sitting with their hands tied behind their backs.

"They are safe, they are with us," Bahboh said.

Rebel spokesman Lieutenant Colonel Qassim Saad al-Din told Reuters that the rebels had taken AK-47 machine guns and rocket-propelled grenades from the base, but had been unable to remove the larger surface-to-air missiles before the army attacked.

"These missiles were fixed to launchers and were too heavy to remove," he said.

Peter Bouckaert, emergencies director at Human Rights Watch, said the amateur videos appeared to show SA-2 surface-to-air missiles and provided Reuters with a picture from a satellite imagery provider showing the al-Ghanto base in flames.

Bouckaert said that large missiles falling into the hands of disparate militias was not a big problem in global arms proliferation, as they were hard to move and operate.

"The real danger is from smaller weapons, like shoulder-mounted surface-to-air missiles. As we saw in Libya, once these weapons are looted they become very difficult to trace, and basically go underground," he said.

Bouckaert pointed to weapons looted by revolutionary fighters in Libya have now reappeared on black markets in neighboring countries.

"We know there are anti-tank, mines and even chemical weapons in Assad's depots," he added.
Deadly shelling and clashes continue
Earlier on Monday, Al Arabiya, citing the Syrian Media Center, rported that severe clashes occurred in the Damascus neighborhood of al-Abbaseen overnight between the Syrian government forces and the Free Syrian Army.

As many as 21 people were killed on Monday in Deir Ezzor, Idlib, Hama and Homs, activists at the Local Coordination Committees said.

The deaths come a day after at least 59 people were killed by Syrian forces, activists at the Syrian Revolution Commission said. The victims, mostly in Homs, included five women and a photojournalist, they said.

From their side, the United Nations monitors reported on Monday that Syrian helicopters were firing on two rebel towns north of the city of Homs, a spokeswoman for the observer mission said.

"U.N. observers reported heavy fighting in Rastan and Talbiseh, north of the city (of Homs), with mortar shelling as well as firing from helicopters, machine guns and smaller arms," Sausan Ghosheh said in a statement.

Syrian activists have frequently said the Syrian military has used helicopters to fire on rebel targets, but Ghosheh's comments were the first time the observers had reported their use in the conflict.

The new head of Syria's main opposition group called Sunday for mass defections from a Syrian regime struggling to survive by carrying out massacres, as the death toll in the uprising in increasing by the day.

Similar calls were made by the rebels, which also urged a campaign of mass "civil disobedience" to ratchet up internal pressure on Assad's beleaguered regime.

"We are entering a sensitive phase. The regime is on its last legs," Kurdish activist Abdul Basset Sayda told Al Arabiya shortly after being named the new leader of the opposition Syrian National Council (SNC).

"The multiplying massacres and shelling show that it is struggling," he said of mass deaths of civilians, the most recent of which saw 20 people, mostly women and children, killed in a bombardment of the southern city of Deraa Saturday.

At his first news conference since taking over the reins, Sayda called on all members of the Damascus regime to defect, while reaching out to minority groups by promising them a full say in a future, democratic Syria.

The Free Syrian Army, meanwhile, called for a campaign of civil disobedience and urged officers and troops in Assad's military to jump ship and join the rebel ranks.

"We call on Syrians to launch a general strike leading to mass civil disobedience," FSA spokesman in Syria Colonel Kassem Saad Eddine said in a statement, according to AFP.

New SNC chief Sayda replaced Paris-based academic Burhan Ghalioun, who stepped down last month in the face of mounting splits that were undermining the group's credibility.

"We would like to reassure all sects and groups, especially Alawites and Christians, that the future of Syria will be for the all of us," Sayda said.