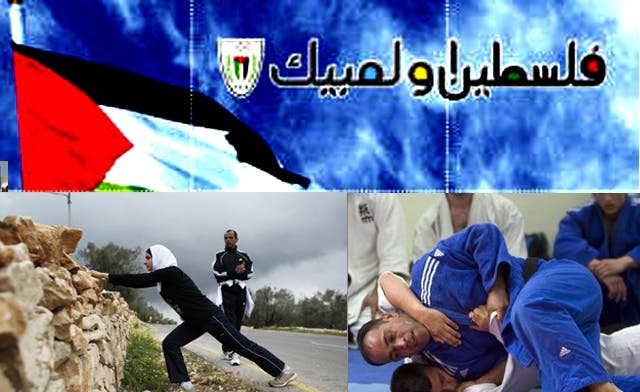 Five Palestinian athletes to fly their flag at the London 2012 Olympics
Five Palestinian athletes are getting ready to take part in the 2012 London Olympic Games, to be held on July 27.

The five athletes are currently training outside the Palestinian territories in various countries.

Swimmers Sabine Hazboune and Ahmed Jibril have, for the past two months, been staying at a special training camp organized by the Palestinian Olympic Committee in the Centre d'alt Rendiment Barcelona in Spain. Jon Fortoni, international trainer, is supervising the swimmers' training.

Runners Woroud Sawalha and Bahaa al-Fara are staying at a training camp in Qatar and are being supervised by Palestinian athletics trainer Majed Abu Maraheel. Judo player Maher Abu Ramila is off to Uzbekistan for a final game before the Olympics.
"I am very happy at the training camp," runner Sawalha told Al Arabiya. "There is a huge difference between training in Qatar and back in the Palestinian territories."

Sawalha explained that the facilities available in Qatar make her training much more effective.

"Here the training follows a well-defined program. This applies to training hours and the nutrition system. I also have a real running track to practice unlike the small field in Nablus. There is also the psychological factor."

Sawalha started her running career at school in the village of Aseera in the northern West Bank where she was the most distinguished among her schoolmates. She then enrolled in the School of Athletics at the National Najah University in the city of Nablus, also in the West Bank, where she excelled in running and practiced religiously until she was chosen with another three athletes to represent Palestine in the 2012 London Olympics.

"I am doing my best to represent Palestine in the most honorable way in the 800-meter race, but I know the competition is very fierce."

Other players, she explained, have been practicing for years to get ready for the Olympics.

"I would be able to do a better job if I had been notified two years before the Olympics. I knew only one year before and then joined a three-month training camp. This is not enough to make a player capable of competing on the international level. However, I still think I will get good results."

When asked whether wearing the headscarf was an obstacle for female athletes, Sawalha said it does not hinder her in anyway.

"Actually my veil is a good chance to show all veiled women that they can still do sports and to encourage them to fight traditional Palestinian beliefs about sports ruining women's health or social lives."

Sawalha added that her family has always encouraged her, especially her father.

"My father was the one who always told me to practice regularly and my participation in the Olympics is his dream come true."

Sawalha's participation is an honorary one in which countries whose players cannot qualify for the Olympics are allowed to take part through the points system. Honorary representation is restricted to athletics and swimming.

Palestine's participation in the London Olympics is both symbolic and political, said al-Sayed Dawoud Metwali, member of the Palestinian Olympic Committee.

"It enables us to raise the Palestinian flag at such an international sports event," he told Al Arabiya. "We want to prove that we are an independent entity and that we are represented in the international scene even if on a small scale."

Eyad al-Omla, head of the Palestinian Athletics Union, finds it unlikely that any of the participating Palestinian players will get first places at the event.

"But we have to be patient," he told Al Arabiya. "We are still starting, but we are already in a better condition."

Omla explained that for the first time, Palestinian players were chosen a whole year before the Olympics.

"This gave them a good chance to receive proper training and be psychologically ready for the event."

Judo player Maher Abu Ramila was the last of the five Palestinian athletes to be notified of his participation at the Olympics. The difference between Abu Ramila and the other four is that he was qualified for the Olympics after defeating several Judo champions throughout the past four years.

Abu Ramila's victories gained him 20 points which raised the total of Palestinian points to 24 and he was consequently qualified by the International Olympic Committee to take part in 73 kilograms category.

Hani al-Halabi, the honorary head of the Palestinian Judo Federation, said that Abu Ramila's ability to join the Olympics through the points system is an achievement.

"We hope his results would be good. He is being supervised by a group of experts at a training camp in Jerusalem and this is a political statement we cannot overlook," he told Al Arabiya.

Palestine first participated in the Olympic Games in 1996 in Atlanta in the United States. Runner Majed Abu Maraheel, who is currently training the 2012 runners, was the first athlete to carry the Palestinian flag at an Olympic event.

Since then, Palestine's symbolic participation in the Olympics has continued in 2000 in Sydney, 2004 in Athens, and 2008 in Beijing. However, none of the Palestinian athletes got advanced places during those years.

(Translated from Arabic by Sonia Farid)