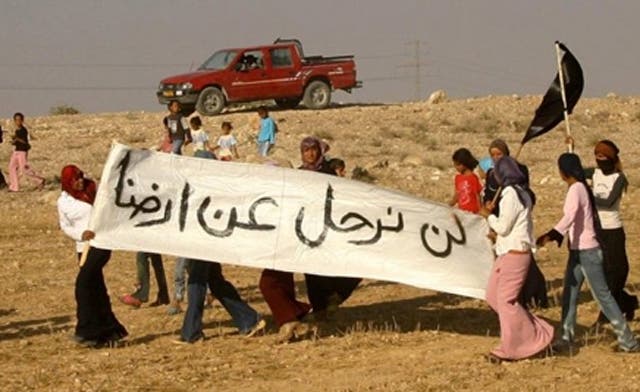 Palestinian villagers demand Guinness entry for demolition record
Residents of an Arab village in Israel demanded entry into Guinness World Records for breaking a record in the number of demolitions carried out by Israeli authorities.

The Bedouin village of al-Araqeeb, whose population is estimated at 500, is located in the Negev in southern Israel and has had its houses demolished 38 times upon instructions from the Israel Land Administration.

"Our village has become a living example of the flagrant violations committed by the Israeli authorities against its Arab population," Awad Abu Farih, head of the Committee for the Defense of al-Araqeeb told the Anatolian Agency.
The demolitions are done under the pretext that residents do not have building permits in the village, he added.

"They want to get us out of our lands even though we have ownership documents that go back to the Ottoman era."

Abu Farih stressed that even though the number of demolitions has reached an astounding 38, the villagers remain adamant on resisting the Israeli authorities.

"Every time they demolish our houses, we rebuild them and we will keep doing that even if the demolitions reach 99. We will never leave our land."

Al-Araqeeb was last demolished on May 23 and like the previous times, the whole village was leveled to the ground and the contents of its houses were confiscated. Residents, however, keep rebuilding the houses whose number is estimated at 40.

Despite their perseverance, villagers admit to living in constant fear with their village at risk of another demolition any minute.

Villagers have so far not taken any official steps towards taking al-Araqeeb to Guinness but are planning to do so shortly. According to them, this initiative basically aims are drawing the world's attention to the constant injustices and discriminatory practices to which they are subjected.

Al-Araqeeb is home to an ancient cemetery that dates back to hundreds of years ago and which residents consider an important evidence of their historic right to the village.


(Translated from Arabic by Sonia Farid)