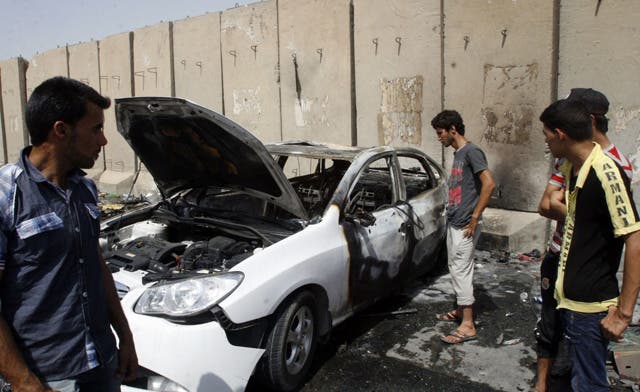 Iraq suicide bomb attack kills 15, wounds 40
A suicide bomber killed 15 people at a Shiite gathering in central Iraq on Monday, officials said, in the latest in a string of attacks targeting Iraq's Shiite majority that have left dozens dead.

The bomber targeted a mourning gathering at about 6:15 p.m. (15:15 GMT) in central Baquba, north of Baghdad, a police colonel said, adding that an army first lieutenant, four police officers and seven other members of the security forces were among the dead or wounded.
Dr Ahmed Ibrahim at Baquba General Hospital confirmed that the facility had received 15 bodies and 40 wounded people.

Security forces cordoned off the area, preventing people from approaching the scene, an AFP journalist said.

The attack came as Sami al-Massudi, the deputy head of the Shiite endowment which oversees Shiite religious sites in Iraq, said a roadside bomb hit his convoy at about 12:15 pm (0915 GMT) in the Saidiyah area of south Baghdad.

Massudi said the bomb, which wounded three of his bodyguards, hit the middle vehicle in his convoy.

The attack happened on the same day that employees found a threatening letter in the central Baghdad headquarters of the endowment, which was destroyed in a suicide car bombing on June 4 that killed 25 people.

"We say to the Safavid rejecters (Shiites) that this is a first letter that you received with the colour and smell of blood, and the sound that will make you deaf, and what is coming, with God's permission, will be much stronger," the letter said, according to Massudi, who added that it was "signed by Al-Qaeda."

Monday's blasts are just the latest in a string of attacks targeting Iraq's Shiite majority.

On Saturday, two car bombs targeted pilgrims in Baghdad, killing 32 people and wounding dozens on the peak day of commemorations for the 799 death of Imam Musa Kadhim, the seventh of 12 revered Shiite imams.

On Wednesday, 72 people were killed in attacks across Iraq, some which targeted Shiites. The attacks later claimed by al-Qaeda's front group, the Islamic State of Iraq (ISI).

They included a car bomb that killed seven people on the outskirts of Kadhimiyah, the site of the Imam Kadhim shrine, and another blast in Karrada in central Baghdad amid Shiite pilgrims' food tents that caused 16 fatalities.

On June 4, 25 people were killed in a suicide car bombing at the headquarters of the Shiite religious endowment in Baghdad, in an attack also claimed by the ISI.

Along with the security forces, the Shiite majority in Iraq has been a main target of Sunni Arab armed groups since the fall in 2003 following the US-led invasion of Saddam Hussein's Sunni-dominated regime.

Also on Monday, a roadside bomb targeted a police patrol in Baquba, north of Baghdad, killing one policeman and wounding two others, and a shepherd was killed by a roadside bomb east of the city, a police lieutenant colonel said, a toll confirmed by Dr Ibrahim.

Violence in Iraq has declined dramatically since its peak in 2006-2007, but attacks remain common, especially in the capital. A total of 132 Iraqis were killed in violence in May, according to official figures.