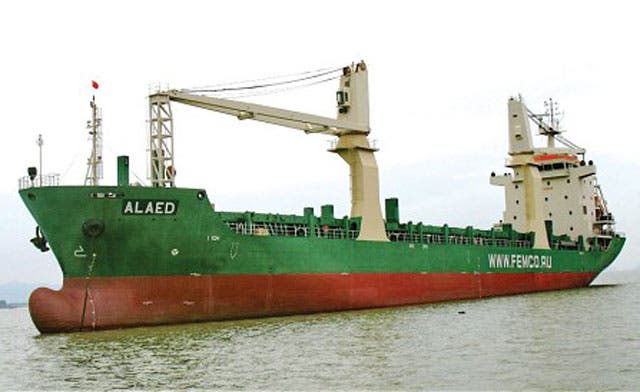 Ship carrying Syria choppers repaired by Moscow back in Russian waters: official
A Russian ship carrying a controversial cargo of attack helicopters that Moscow repaired for Syria has re-entered Russian waters after turning back off Britain, an official said on Saturday.

The Alaed, whose cargo has greatly troubled the West amid the spiraling conflict in Syria, is due to enter the Kola Gulf, which leads from the Barents Sea towards Russia's Arctic port of Murmansk, on Sunday morning.

"The ship is drifting in territorial waters, the entry into the (Kola) Gulf is expected at 6:00 am Moscow time (0200 GMT)," a Kola shipping control official told the Interfax news agency.

It is not clear when the ship will then arrive in port.

The Alaed, which headed back to Russia after its British insurer withdrew coverage, is to be re-flagged in Murmansk to sail under the Russian flag.

It is currently sailing under the flag of the Caribbean island of Curacao. The change appears to be an attempt to avoid security inspections that come when sailing under the flag of a third country.

Interfax reported on Friday that once re-flagged, the ship will set off again on its voyage to the Syrian port of Tartus under the accompaniment of at least one other Russian ship.

Russia says the Mi-25 helicopters are being returned to Syria after undergoing repairs at Russian factories under contracts that could not be breached.

The Alaed was forced to return from its journey after its mission was reported by the US State Department, prompting the British insurer's coverage withdrawal.

Russian Foreign Minister Sergei Lavrov on Thursday confirmed the nature of the cargo, saying the ship carried "three helicopters that had been repaired" by Russia for Syria under a 2008 agreement.

Lavrov, who next week meets U.S. Secretary of State Hillary Clinton in Saint Petersburg, had said he felt no need to justify Russia's behavior to the United States as Moscow had not violated any rules.