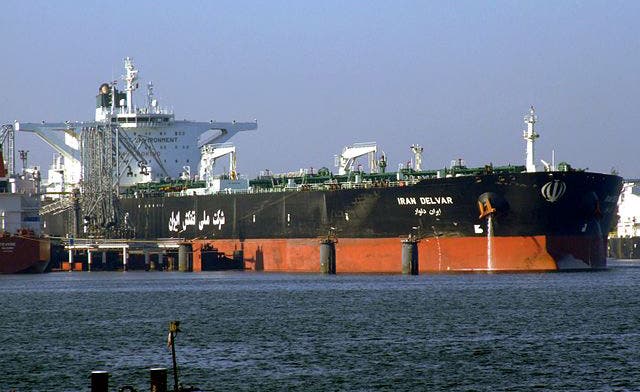 Iran's main tanker firm delays expansion on weak market, sanctions
Iran's main oil shipper NITC has delayed the expansion of its oil tanker fleet, industry sources said, as tough Western sanctions on the OPEC member's crude exports and a weak freight market hurt the company's ability to turn a profit.

The delay could indicate that NITC has enough capacity with its existing 39-tanker fleet to deliver crude to its Asian customers, which have cut purchases by about a fifth from last year's 1.45 million barrels per day in preparation for new European Union sanctions against Tehran.

Iranian tankers will be the only vessels able to transport the Islamic Republic's crude to its two top importers, China and India, once the sanctions come into effect on Sunday.
A senior NITC official told Reuters the firm has yet to take delivery of a 318,000 deadweight ton tanker named "Safe," the first of 12 new supertankers the firm will manage under a $1.2 billion contract with Chinese shipyards. Delivery was initially scheduled for May.

"Delivery has been delayed because of the market. The market is not attractive for any ship owner," the NITC official said.

The Baltic Exchange's Dirty Tanker index fell to a 17-month low of 660 points on Monday, down nearly 30 percent in the last six months due to an oversupply of vessels and slowing global oil demand growth.

Industry officials believed the delay in delivery of the vessel was also due to Western sanctions, which have made it difficult for Iran to sell its crude.

"With their (Iran's) export capacity being reduced, they (NITC) probably do not want to take delivery of them right now because they may find it difficult to trade them and for people to accept their cargoes and get the vessels insured," said a senior ship industry official.

"They (NITC) might also have financing problems to pay for the delivery installments."

The United States and Europe have targeted Iran's oil trade to pressure Tehran to halt its disputed nuclear program.

Washington will impose sanctions this week on financial institutions dealing with Iran's central bank, while Brussels will place an oil embargo on the country's oil trade. The EU's sanctions also prohibit European insurers, which provide cover for nearly all of the world's tanker fleet, from doing business with ships carrying Iranian crude.

It was not clear when NITC will take the tanker, capable of carrying 2 million barrels of crude, nor whether delivery of the other vessels will also be delayed.

Another seven very large crude carriers (VLCCs) are scheduled for delivery by the end of this year from two Chinese shipyards, and the remaining four are expected to be commissioned by the end of 2013.

A senior official with China CSSC Holding's Waigaoqiao Shipbuilding Co Ltd, which has finished constructing NITC's new supertanker, said he was unaware of the delays.
Tumbling oil exports
Iranian oil exports this month have dropped to between 1.2 million barrels per day and 1.3 million bpd, a decline of as much as 1 million bpd from last year, as Tehran's customers stop or scale back purchases ahead of sanctions, industry sources said last week.

Of that, China and India will take around 700,000 bpd in July, according to industry sources.

To transport that much crude to the two countries, NITC would need around 23 million barrels of shipping capacity, assuming a 46-day round trip voyage to China and 20-day trip to East Coast India, according to Reuters calculations.

Even with half of its existing fleet being used to store crude offshore, NITC still has the capacity of around 26.5 million barrels.

Japan, Iran's No. 3 oil buyer, is providing sovereign guarantees to allow its domestic tankers to transport Iranian crude. Japanese refiners do not accept delivery of crude on Iran's ships. South Korea, the last of Iran's top four buyers, has indicated it will halt Iranian imports from July.