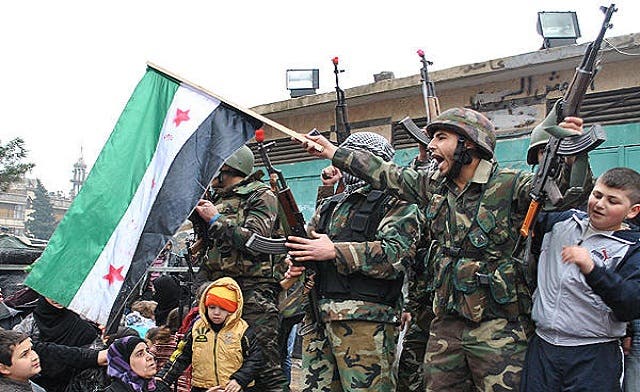 Syrian army general, dozens of soldiers defect and flee to Turkey
A Syrian general from an artillery division and seven officers were among 85 soldiers, mostly serving in Homs province, who defected and fled to Turkey on Monday afternoon, a Syrian activist and Free Syrian Army sources told Reuters.

Turkish state broadcaster TRT Haber said on its website that 85 Syrian soldiers, including the general, were among those who were sent to the Apaydin camp in Turkey's Hatay province.

Last month, another Syrian general, two colonels, two majors, one lieutenant and 33 soldiers had also defected from Syrian President Bashar al-Assad's forces and arrived in Turkey.

The private news channel CNN Turk also reported the defections of the soldiers, but said they had arrived with members of their families, making a total of 224 individuals.

A government official, however, said the group included three colonels and there was no general among them. The official, who spoke on condition of anonymity in line with government rules, did not know the overall number of defectors and the two accounts could not immediately be reconciled.
Also in June, three Syrian military pilots defected to Jordan, according to Al Arabiya's correspondent in Amman.

One of the three pilots was a Lieutenant Colonel who managed to bring in his family to Jordan today as well, according to the correspondent. The other two pilots were both colonels and were believed to have also brought in their families from Syria, he said.

Four other Syrian military officials also entered Jordan following the defection of the colonel Hassan Marei Hamada who landed his Meg21 plane inside the Hashemite Kingdom.

The Syrian Defense Ministry had branded Hamada a "traitor" and had said that it was in contact with Jordanian authorities to retrieve the aircraft.

The Free Syrian Army, the most prominent armed opposition group, had recently called for a campaign of civil disobedience and urged officers and troops in Assad's military to jump ship and join the rebel ranks.

"We call on Syrians to launch a general strike leading to mass civil disobedience," FSA spokesman in Syria Colonel Kassem Saad Eddine said in a statement, according to AFP.

He urged officers and men in Syria's regular army "whose hands are not tainted with blood to join the fighters."

The United Nations has said the violence has killed more than 10,000 people since anti-regime protests erupted across the country in March 2011, while activist groups have put the death toll at more than 15,000.