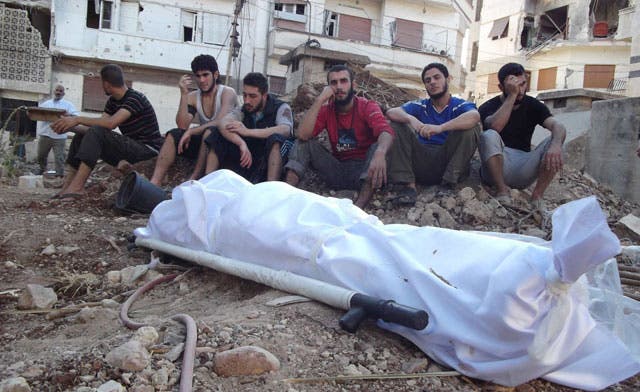 Syria's death toll crosses 17,000, victims mostly civilians: opposition group
The death toll has crossed 17,000 since the uprising against President Bashar Assad began in March 2011, claimed the Syrian Observatory for Human Rights.

The violence has grown increasingly chaotic in recent months and it is difficult to assign blame for much of the bloodshed as the country spirals toward civil war it reported.

The government restricts journalists from moving freely, making it impossible to independently verify death tolls.

The Britain-based Observatory said Monday that among the 17,129 deaths 11,897 were civilians, 4,348 soldiers and 884 military defectors.

The group has a network of activists on the ground who document deaths and rights violations using eyewitness accounts, hospital reports and video footage.

Another group, the Local Coordination Committees, says 14,841 civilians have been killed.
Sanctions to end fighting
Meanwhile, the Dutch foreign minister said he and his British counterpart had discussed stepping up sanctions against Syria to hasten an end to 16 months of conflict in the country.

"We are reflecting on, for instance, stepping up the sanctions," Dutch Foreign Minister Uri Rosenthal said after a meeting with British foreign secretary, William Hague.

"There can be no future for Syria with Assad in power," Hague said.

However, Russian President Vladimir Putin said that the Syrian government and opposition groups should be "forced" to start a dialogue.

He spoke Monday, the same day a Syrian opposition leader, Michel Kilo, met with Russia's foreign minister.

Kilo, who heads the Democratic Forum opposition group, said that he hopes Russia will play a positive role in "finding a peaceful solution to our crisis."

Moscow on Monday also said that it will not deliver fighter jets to Syria.

Members of another opposition group, the Syrian National Council, are expected in Moscow for talks Wednesday.

Russia is Syria's most important ally and its main supplier of arms. The Russians have blocked the U.N.'s Security Council from taking strong, punitive action against the Assad regime.
Syria's cross border violence
In a related story, U.S. Ambassador to Lebanon Maura Connelly voiced concern on Monday at reports of shelling into northern Lebanon from Syria when she met President Michel Sleiman, the American embassy said in a statement.

Connelly "voiced (...) concern over recent reports of cross-border shelling into northern Lebanon and expressed her condolences for the deaths of Lebanese civilians," it said.

On Saturday, two girls were killed and 10 people were wounded in north Lebanon in rocket fire from Syria, explosions and a gunbattle, hospital and security sources said.

Connelly also called on Damascus to "respect the sovereignty and territorial integrity of Lebanon," while expressing the hope that "developments in Syria not contribute to instability in Lebanon."