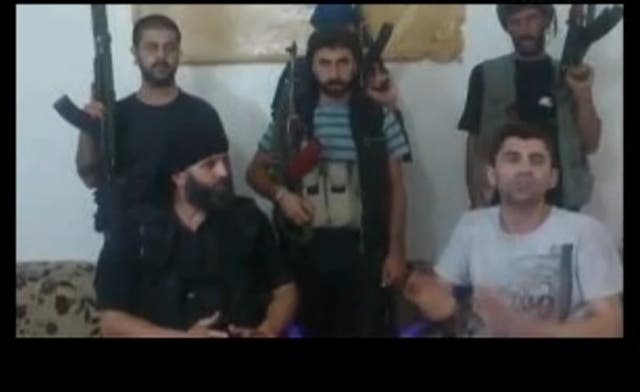 Syrian fighters claim arrest of witness in Hariri murder case
Members of the Syrian Free Army have announced the arrest of Husam Taher Husam , a self proclaimed former Syrian intelligence operative, who testified in the investigation of the 2005 assassination of former Prime Minister Rafik Hariri.

Syrian opposition fighters posted a video on the internet allegedly showing Husam surrounded by men with machine guns.
The man identified himself as Husam and that he was witness in "the assassination of president martyr Rafik Hariri."

"I have information, just get me to Beirut and i will give you surprises that you have never dreamed of," the man told his captors.

Lebanon's Future Movement official Mustapha Alloush told AlArabiya.net that Husam is a "false witness" and that he is still in a Syrian agent.

In June 2011, the Netherlands-based the Special Tribunal for Lebanon issued arrest warrants for four members of Hezbollah, an Islamic militant group based in Lebanon.

Interpol has also issued a "red notice" on the suspects, but so far Beirut has failed to arrest them and Hezbollah has denied responsibility.

Billionaire politician Hariri, along with 22 others including a suicide bomber, was killed in a huge car bomb blast in Beirut as Hariri was on his way home.

Moustafa Badreddine, 50, is accused of being the "brains" behind the attack while Salim Ayyash, 48, allegedly coordinated the team.
Hezbollah leader Hassan Nasrallah has dismissed the tribunal as a U.S.-Israeli conspiracy and vowed that no member of Hezbollah would ever be found or arrested.

The tribunal, located in The Hague suburb of Leidschendam, is the only international court with a mandate to try suspects in absentia.

Prosecutors had said they would be ready to start presenting evidence in December, but defense lawyers had said they would not be ready before autumn next year.