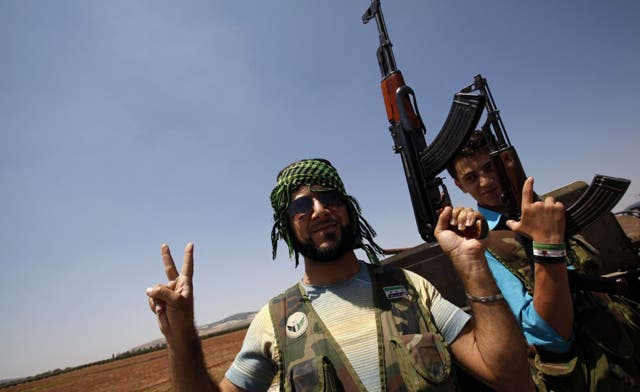 150 regime troops captured by Free Syrian Army in Aleppo and Idlib
Syrian rebels captured 150 troops in Aleppo and Idlib on Friday, Syrian activists said.

Syrian rebels captured 50 troops, including 14 officers, in the town of Maaret al-Numan in the northwestern province of Idlib, the Syrian Observatory for Human Rights said.

"After clashes that lasted 12 hours, rebels destroyed a military security post and captured 50 regime troops, including 14 officers," Rami Abdul Rahman, director of the Britain-based Observatory, told AFP by phone.

Meanwhile, Syrian rebels said they have captured 100 regime soldiers and militia members during fighting in the city of Aleppo in the north of the country, according to a video distributed by Syrian activists on Friday.
The video, which shows dozens of men in civilian clothing seated in a courtyard, was filmed by a man who describes himself as a member of the rebel Free Syrian Army.

The captured men tell the camera that they are members of the Syrian army and the "shabiha" pro-regime militia.

"I am Colonel Mohammed Rashid Mohammed al-Mhmeid... I was arrested at the entrance of Aleppo," one of the men says.

"I am Captain Fuad al-Hosh, commander of the Aleppo police in Shaar district. I was captured when I left my post," another said.

One man identified himself as a member of the shabiha, saying he was captured in Hanano in Aleppo and had "killed a demonstrator," according to AFP.

Rebel fighters and Syrian troops have been massing in the city of Aleppo for a major battle that sources said could come as early as Friday or Saturday.

The two sides have already been battling in part of the city, including the southern Salaheddin neighborhood.

President Bashar al-Assad's artillery pounded rebel-held areas in and around Aleppo on Friday in preparation for an onslaught on Syria's biggest city where the United States has said it fears a "massacre" may be imminent.

Opposition sources said the shelling, which follows intensive ground and air bombardment, was an attempt to drive fighters inside Aleppo from their strongholds and to stop their comrades outside the city from resupplying them.

"They are shelling at random to instil a state of terror," said Anwar Abu Ahed, a rebel commander outside the city.

The battle for Aleppo, a major power center that is home to 2.5 million people, is being seen as a potential turning point in the 16-month uprising against Assad that could give one side an edge in a conflict where both the rebels and the government have struggled to gain the upper hand.

A rebel commander said insurgents had attacked a convoy of Syrian army tanks heading towards the city, as the government continued to redeploy forces from other parts of the country to bolster its forces there.

The fate of Syria itself -- an ethnically fragmented nation of 22 million people -- is likely to determine the future of the wider region for years to come amid fears that its own sectarian tensions could spill across borders.

The U.S. State Department said credible reports of tank columns moving on Aleppo, along with air strikes by helicopters and fixed-wing aircraft, represented a serious escalation of Assad's efforts to crush his opponents.

"This is the concern: that we will see a massacre in Aleppo, and that's what the regime appears to be lining up for," Victoria Nuland, a spokeswoman for the State Department, said, according to Reuters.

Turkey, a former ally of Assad and now one of his fiercest critics, cheered on the rebels in Aleppo.

"In Aleppo itself the regime is preparing for an attack with its tanks and helicopters ... my hope is that they'll get the necessary answer from the real sons of Syria," Prime Minister Tayyip Erdogan said in remarks broadcast on Turkish TV channels.

As the remaining residents of Aleppo braced themselves for more bloodshed, General Robert Mood, the outgoing head of the U.N. monitoring mission, told Reuters he thought Assad's days in power were numbered.

"In my opinion it is only a matter of time before a regime that is using such heavy military power and disproportional violence against the civilian population is going to fall," the Norwegian general, who left Damascus on July 19, said.

Navay Pillay, the United Nations human rights chief, said a pattern had emerged as Assad's forces resorted to shelling, tank fire and door-to-door searches.

"All this, taken along with the reported build-up of forces in and around Aleppo, bodes ill for the people of that city," she said in statement.

Government troops stationed on the outskirts of the city unleashed barrages of heavy-caliber mortar rounds on its western districts, while Russian-built MI-25 helicopter gunships struck in the east, opposition activists inside the city said.

The heavy fighting follows an audacious bomb attack on July 18 that killed four of Assad's closest lieutenants in Damascus, a development that led some analysts to speculate that the government's grip was slipping.

On Thursday, thirty-four people were killed in and around Aleppo, according to opposition activists, in an uprising that has cost the lives of 18,000 people across the country.

In Damascus on Friday, four helicopters flew over southern areas of the capital, firing heavy machine guns into the districts of Hajar al-Aswad and Tadamon as well as into the Yarmouk Palestinian refugee camp, a resident said.

"I can see two above me right now, heading towards Hajar al-Aswad," she said by telephone, the pounding of guns audible in the background. The helicopters were flying low and appeared to be targeting specific buildings.

Opposition sources said Syrian troops and armor entered Hajr al-Aswad on Friday, pursuing a counter-attack against rebel fighters that began last week.

With U.N. Security Council resolutions for sanctions against Syria vetoed by Russia and China for a third time last week, the United States has said it is stepping up assistance to Syria's fractured opposition, though it remains limited to non-lethal supplies such as communications gear and medical equipment.

Reuters has learned that the White House has crafted a presidential directive, called a "finding," that would authorize greater covert assistance for the rebels, but stop short of arming them.

It is unclear whether President Barack Obama has signed the document, a highly classified authorization for covert activity.

A Syrian parliamentarian from the northern province of Aleppo said on Friday she had fled to Turkey, becoming the first member of the rubber-stamp assembly elected in May -- which is dominated by Assad's Baath Party -- to defect.

Meanwhile, a source close to the mediation effort told Reuters on Friday that international mediator Kofi Annan was still trying to forge a political solution to the Syria crisis despite being made a scapegoat for the failure of the two sides to agree.