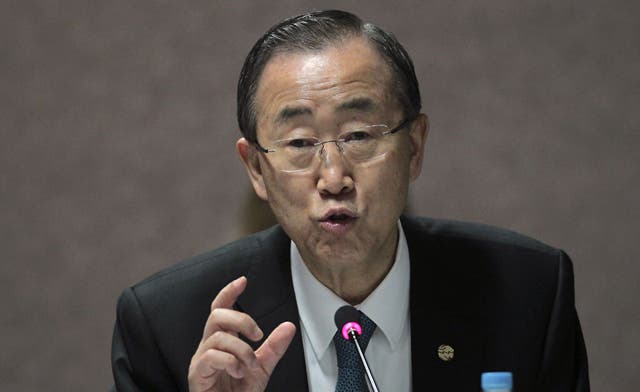 U.N. chief urges Syria not to use chemical weapons 'under any circumstances'
United Nations Secretary-General Ban Ki-moon on Friday said he was "deeply" concerned about reports of the possible use of chemical weapons by Syria, and demanded the government state it would not use them "under any circumstances."

"I remain deeply concerned about the reports of the possible use of chemical weapons," he told reporters, citing one report in which Syria said it would use such weapons if it was attacked by foreign powers.

"I demand .... that the Syrian authorities categorically state that they will not use chemical or other weapons of mass destruction under any circumstances," he added, speaking at a joint news conference in London with British Foreign Secretary William Hague, Reuters reported.
Both Hague and Ban expressed deep concern about escalating violence in the Syrian city of Aleppo, which is under a major assault by government forces.

"I also want them to know in the Assad regime that the more they do this sort of thing, the more we will increase the practical support we give to the opposition movements in Syria," Hague said, referring to Syrian President Bashar al-Assad.

Ban's warning came as world powers voiced fears that Syrian President Bashar al-Assad may be preparing a "massacre" of his own people.

Hague earlier said the assault could spark a humanitarian disaster.

"This utterly unacceptable escalation of the conflict could lead to a devastating loss of civilian life," Hague said in a statement, according to AFP.

Tanks, helicopter gunships and warplanes have poured into Aleppo over the past two days, with troops firing on a string of rebel neighborhoods in its southwest on Friday in the battle to control the commercial hub.

Syrian rebels said Friday they had captured 150 soldiers and militia members in Aleppo and Idlib.