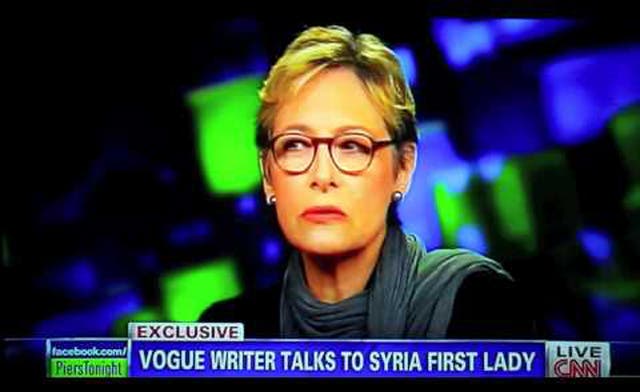 Vogue journalist claims to have been duped by Syrian First Lady
Joan Juliet Buck, who wrote a notoriously ill-timed profile of Syrian First Lady for Vogue magazine, says she was fooled by Asma al-Assad.

Buck wrote an article published by Newsweek on Monday, detailing how the magazine's editor asked her to travel to Damascus to meet Mrs. Assad and her husband Syrian President Bashar al-Assad, but she was reluctant to accept the assignment. "I don't want to meet the Assads, and they don't want to meet a Jew," she wrote.

"Syria. The name itself sounded sinister, like syringe, or hiss," she continued.

Buck told the editors to send a political journalist instead, but they refused.
"We don't want any politics, none at all," the editor told Buck. "And she [Asma] only wants to talk about culture, antiquities, and museums. You like museums. You like culture. She wants to talk to you. You'd leave in a week."

Finally, Buck accepted. "It was an assignment. I was curious."
According to Buck's account, Vogue had been trying to get an interview with Mrs. Assad for two years. "Now she'd hired a PR firm, and they must have pushed her to agree," she added.

Last Wednesday, however, Al Arabiya published a story on how a New York-based PR firm called Brown Lloyed James (BLJ) managed to feature Mrs. Assad in Vogue in an article titled "Rose in the Desert."

In a reply to a query by Al Arabiya, the PR company said "to clarify, the feature in Vogue had already been agreed to before we were ever involved. Vogue had requested the interview with the First Lady, and she had agreed."

"The way it is currently phrased makes it seem as if we pitched the First Lady to Vogue and secured the interview, which is not the case."

Buck, meanwhile, goes into details to describe the week she spent in Syria to work on the profile, including meeting with BLJ partner Mike Holtzman and his intern Sherry Jaafari, the daughter of Syria's envoy to the United Nations. She had met the two before flying to Damascus to BLJ's office in London.

The journalist cites an email that was sent by Holtzman to Jaafari in which he tells her not to mention anything controversial about Syria to Buck. That email was first published by Al Arabiya but Buck says she learned about it from Wikileaks.

In her article, Buck also talks about how the Syrian government was keeping a watchful eye on her activities during her short trip. One day, she returned to her hotel room to find the Ethernet cable ripped out of her laptop "so violently that the plastic tab on the end had broken off."

Buck also wrote about a meeting she had in a hotel bar with the French ambassador to Syria. The ambassador, who was cautious, took the battery off his cellphone and asked Buck to do the same. Moments later, Sherry Jaafari appeared and asked her: "What are you doing?"

"We don't want you to talk to the French ambassador," Jaafari told Buck the next day.

After the profile was published and met with an uproar, Vogue removed the piece from its website.

Buck promised the magazine not to speak to the press about it but her contract was not renewed.