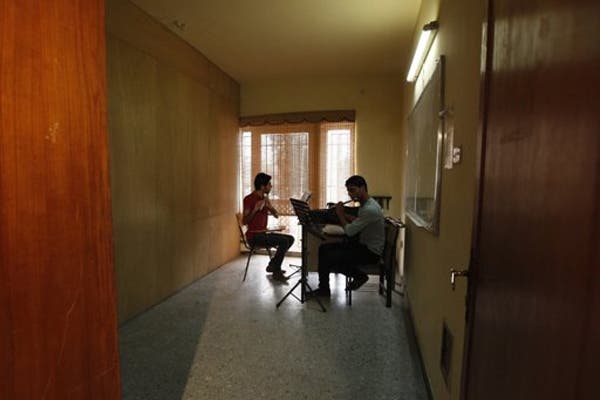 Iraqi musician teaches orphans classical music
The former conductor of the Iraqi National Symphony Orchestra Karim Wasfi has started an ambitious project to classically train orphans to become musicians.
Wasfi said his initiative was inspired by Venezula's El Sistema (The System), a well-known voluntary sector music education program.

Founded in mid-1970s by Jose Antonio Abreu, a Venezuelan pianist, politician and economics professor, El Sistema has taught hundreds of thousands of youths, many from impoverished homes in Venezuela's tough slums, to play in orchestras.

To capture the interest of Iraqi orphans, Wasfi distributed hats and T-shirts to the children, most of whom had lost one or both of their parents in bomb attacks that swept the country after the fall of Saddam Hussein's regime in 2003.

Then he introduced them to musical instruments, giving them a brief explanation of each one of them.

He said his project is meant to help children deal with their difficult lives and lift them out of poverty.

"My concern from the beginning was how to deal with another segment of the society, a segment which is badly and unjustly treated by circumstances, namely the orphans. The main idea of this project was to attract orphans without using any media methods or political reasons or any sort of public relations methods. Thank God, we are away from all this. Simply I wanted to create an experience that is similar to that of Venezuela where the orchestra has expanded to comprise more than 340 male and female players," he said.

Founded in 2007, Wasfi's House of Music offers classes on all western and oriental instruments, with special emphasis and focus on classical education and ensemble playing.

For each course, which lasts for three months, 25 orphan children are offered classes free of charge. They are chosen randomly from the Iraqi House of Orphans, regardless of their musical skills and talents. Children who excel at any instrument will be sent to Italy for further training, according to Wasfi.

Some of the children in the school have lived on the streets and begged for a living.

The aim, as he puts it, is to teach children a profession that will help them shape their future and give them the chance to be world-class musicians by offering them classical musical education focused on ensemble playing.

"We offer them space, musical instruments, classes, lectures and accommodation at the center free of charge. They will be safe and protected and at the same time they will receive knowledge free of charge in order to give them a chance to add a new side to their lives, a practical and a professional one, which can benefit them in the future. And at the same time they are forming an orchestra, which can perform at the same places where they used to beg," he said.

Wasfi also says the music is beneficial to the children in the short term. He believes that when children are exposed to music, their behavior improves.
In addition to their musical learning, the orphan children receive classes on politeness, discipline and social manners.

"We teach them etiquette, good citizenship, good manners and courtesy in dealing with others as a social practice. There is nothing strange from other societies, we teach them traditions and positive things, things that are deeply-rooted in the region and in its ancient history, in addition to teaching them music in a scientific and academic way," Wasfi said.

Soaking up his first ever experience of classical music and enjoying the melodies, 15-year-old orphan Abbas Thaer said he hoped to travel the world one day and play music.

"Through music you can express all your emotions. It moves emotions and my friends and I have experienced this. We all hope, God willing, that our dreams come true and that we travel, as our teacher said, and live a happy life. As he said we will not go to them, but rather they will come to us to hear our sweet music," said Thaer, one of an army of countless orphans left behind by six years of sectarian violence.

Overall violence has decreased in Iraq in past years, allowing the war-torn country -- once regarded as a cultural gem of the Middle East -- to witness a slow revival of its arts scene.

However, bombings and killings remain a daily occurrence. An election in March, which produced no outright winner, has raised fears of renewed fighting.

The Iraqi National Symphony Orchestra (INSO), established in 1948, came close to collapse after the 2003 U.S.-led invasion of Iraq.

But it survived, and the number of musicians employed by the orchestra has grown from 52 in 2005 to 90 in 2010, including the first U.S. female violinist to be part of it on a full-time basis. It hopes to swell its numbers as exiled musicians return to Iraq after decades of war.