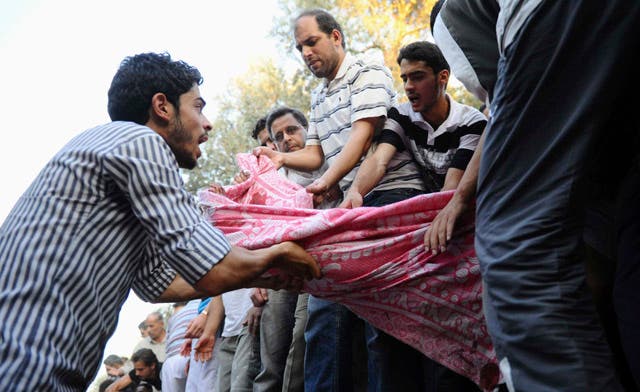 At least 21 killed in shelling on Yarmouk Palestinian refugee camp in Syria: NGO
At least 21 civilians have been killed on Friday in shelling by the Syrian regime forces on the Yarmuk Palestinian refugee camp in the Syrian capital, the Syrian Observatory for Human Rights said on Friday.

"The number of people killed by the mortar attack on the Yarmouk Palestinian refugee camp has risen to 21, two of those killed were children. four bodies remain unidentified," the watchdog reported.
The watchdog said the mortar shells slammed into the camp, on the southern outskirts of Damascus, on Thursday night, as President Bashar al-Assad's regime pressed its bid to crush an uprising that erupted almost 17 months ago.

Observatory director Rami Abdel Rahman said the shelling occurred as clashes flared between government troops and opposition fighters in the nearby Damascus neighborhood of Tadamun.
"We demand an international investigation. We do not know the origin of the shelling," Abdel Rahman told AFP in Beirut on the telephone.

The Observatory also reported heavy shelling overnight around Houla, a town in the central province of Homs where at least 108 people were massacred at the end of May, triggering international outrage.

In the town of Hama, more than 60 people have been killed in what activists described as a new massacre, the Syrian Coordination Committees.

Abu al-Qassim, of the Union of Hama revolutionaries, said the victims included dozens of children, women and members of the opposition Free Army.

"From Yesterday today, more than 60 people have been killed in a real massacre. The city is a ghost town," he told Al Arabiya by phone.

More than 20,000 people have been killed in Syria since the anti-Assad revolt began in March 2011, according to the Observatory. There is no way to independently verify this figure, while the UN has stopped keeping count.

The Observatory also reported that the Salaheddin neighborhood of Aleppo was bombarded on Friday morning, with clashes continuing in the Zebdiya neighborhood.