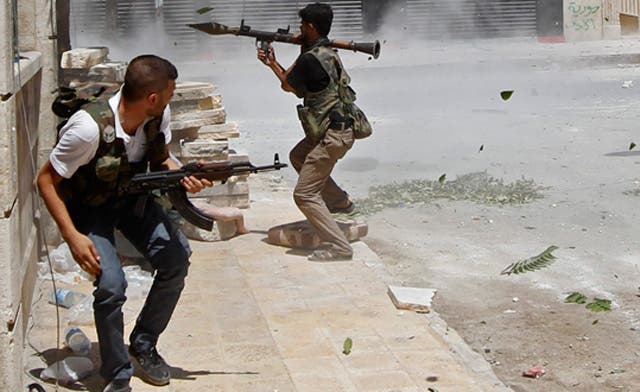 Civilians executed in Homs round-up as army shells Aleppo: Syria opposition
The opposition Syrian National Council and activist groups charged on Sunday that pro-government militia summarily executed 10 civilians during a round-up in the flashpoint central city of Homs.

"Militiamen detained nearly 350 people from the Shamas district, assembled them in a courtyard and executed 10 of them," activist group, the Syrian Revolution General Council, said.

"The fate of the nearly 340 others is unknown and we fear greatly that they have met the same fate as the 10 martyrs," the group added.

The opposition SNC issued a similar statement.

"Ten young men were executed in the Shamas neighborhood of Homs city after the army and pro-regime gunmen stormed the area and rounded up 350 young people," it said.

"The army called from the mosques surrounding the district for all the young men to come out into the streets with their hands behind their heads," it said.

Rebel spokesman Kassem Saadeddine issued a statement overnight warning of an impending massacre in the Shamas neighborhood.

"The Joint Command of the Free Syrian Army in Syria warns of a massacre by the criminal regime in the Shamas neighborhood of Homs, the capital of the glorious Syrian Revolution," the rebel colonel said.

Saadeddine accused "the Iranian regime and its gangs on Syrian territory" of playing a role in the massacre and threatened to strike back at "the heart of the Syrian and Iranian regimes."

The Syrian Observatory for Human Rights said that many residents of Shamas had fled in the face of persistent shelling by the army and clashes between troops and rebels.

It said that pro-government forces had carried out a round-up in the neighborhood but it made no mention of any executions.

Meanwhile, the Syrian army shelled rebel-held districts of commercial capital Aleppo Sunday as fighting flared anew around a southwestern neighborhood that rebel fighters had quit last week, the Syrian Observatory for Human Rights said.

The Shaar, Tariq al-Bab, Sakhur, Hanano and Bustan al-Qasr neighborhoods all came under bombardment, as troops pressed a ground offensive they launched on Wednesday
An army colonel was killed in an assault by rebels in the Safira district, the Britain-based watchdog said.

In the capital Damascus, gunfire was reported in the Qadam neighborhood.

Heavy explosions were heard in the Damascus suburb of Harasta, the Observatory said. Elsewhere in the province, machinegun fire was heard in the town of Al-Tal, where 15 civilians were killed in shelling and clashes on Saturday as troops tried to regain control from rebels.

They were among 148 people killed across Syria on Saturday -- 85 civilians, 20 rebels and 43 soldiers, the Observatory said.