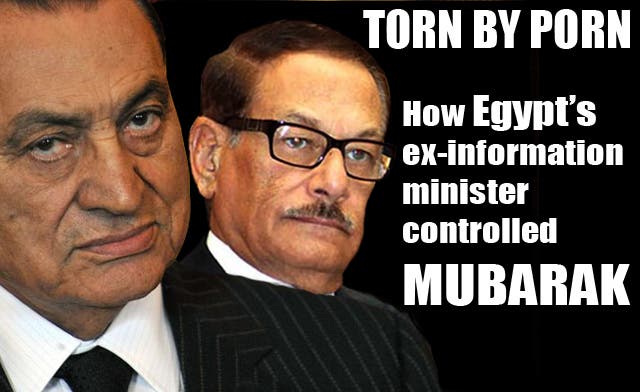 Former Egyptian information minister blackmailed Mubarak with sex tapes: actress
Egypt's former information minister once used covertly filmed sex tapes to control many government officials, including toppled President Hosni Mubarak, media quoted a producer and widow of the country's head of intelligence as saying this week.

In an interview aired Thursday on Egypt's al-Hayat 2 channel, Etimad Khorshid said former information minister Safwat al-Sharif used hidden cameras to accumulate sex tapes of many officials. Those videos allowed him to control many of Egypt's most powerful figures, she said.

"Mubarak was under his control," she told the presenter of the show.

When the presenter asked again, for emphasis, if Sharif had "any videos of Mubarak," Khorshid answered: "Of course."

Both Mubarak and Sharif were toppled by widespread protests last year. Sharif is currently in prison for alleged corruption and abuse of power, while Mubarak and his sons are in jail on charges of complicity in the deaths of -government protesters as well as corruption and embezzlement of public funds.

The presenter of the entertainment program named "Ana Wa Asal Jiran" or "Me and the Honey are Neighbors" further pressed Khorshid, asking, "Do you realize that you are saying that to history? What if they [Mubarak and Sharif] come out from prison and rebuff your allegations as lies?"

She answered that Safwat did not go straight to prison when Mubarak was ousted from power, so he had the opportunity to hide the evidence.

Khorshid, was an actress who then married movie studio owner Ahmed Khorshid and went on to become one of Egypt's first prominent female producers. She was able to expand her business by acquiring her own studio.

She also claimed Salah Nasr, Egypt's intelligence head from 1957 to 1967, later forced her to divorce her husband and marry him, even though she was pregnant with her son, Adham, at the time.

Nasr threatened to put her husband in a psychiatric hospital unless she divorced him, she said, adding the former intelligence chief wanted to humiliate her and her husband.

Her son, Ihab Khorshid, told the program that his family had to leave Egypt to save their lives and that the former regime pillaged his father's business.

"Our family gave birth to two international icons, Ahmed Khorshid, whose fortune was taken by the regime, and Omar Khorshid who was killed…both honored Egypt," he said.

Omar Khorshid was a well-known guitarist who died in a car accident in 1981, although many believe he was murdered.