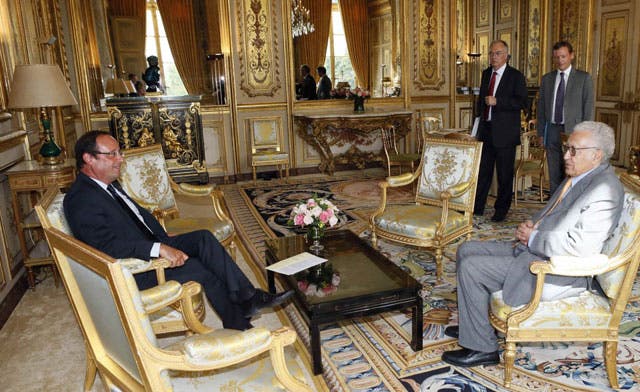 French president says no political solution in Syria unless Assad steps down
French President Francois Hollande insisted on Monday that there can be no political solution for the conflict-hit country unless President Bashar al-Assad steps down from power as helicopter gunships shelled the Damascus suburb of Daraya, killing at least 12 people on Monday while several other parts of the city came under aerial bombardment by Assad's forces.

There "cannot be a political solution without the departure of Bashar al-Assad," Hollande told the new U.N. peace envoy to Syria Lakhdar Brahimi in a meeting, according to a statement issued by the Elysee.
Hollande reiterated France's "commitment to a Syria that is free, democratic and respectful of the rights of each of its communities" and assured Brahimi of France's support for his mission.

The new envoy meanwhile pointed out that France is an "important country on everything that is happening around Syria," noting that it currently holds the rotating presidency of the U.N. Security Council.

Brahimi, a veteran Algerian diplomat troubleshooter, was named on Friday to take over from Kofi Annan who quit because of the lack of international support for his peace efforts.

Brahimi, who has said he is not confident of being able to restore peace, warned Sunday that it was now a matter of ending rather than avoiding a civil war in Syria after 17 months of bloodshed.

On Monday, YouTube videos, which could not be independently verified, showed several people with missing heads and limbs in the wake of the attack on the conservative Sunni Muslim southern Damascus suburb of Daraya, from where Free Syrian army rebels have been operating.

Activists and residents also reported helicopter rocket and machinegun fire in the southwestern suburb of al-Mouadamiya and the eastern suburbs of Akraba and Deir al-Assafir, as well as the Damascus neighborhood of Kfar Souseh. An activist group earlier reported at least 12 dead in al-Mouadamiya.

The United Nation's troubled observer mission to Syria has officially ended after being recalled amid escalating violence as world powers fail to agree how to end months of bloodshed in the country.

The mandate of the U.N. Supervision Mission in Syria (UNSMIS) expired at midnight Sunday after a roughly four-month deployment in which its work was hobbled by growing unrest that has cost tens of thousands of lives.

Created after a U.N. Security Council resolution in April, a team of some 300 truce monitors was progressively deployed into Syria as part of U.N.-Arab League envoy Kofi Annan's six-point plan to end the conflict.
It was suspended in June and numbers cut back because of the mounting violence, as both sides violated a ceasefire that was meant to have been the cornerstone of Annan's plan.

The departing U.N. observer mission chief on Saturday accused both Syrian army and rebel forces of failing to protect civilians.

"Both parties have obligations under international humanitarian law to make sure that civilians are protected," General Babacar Gaye, head of the U.N. Supervision Mission in Syria, told reporters in Damascus.

"These obligations have not been respected."

Annan, a former U.N. secretary general, steps down as international envoy on Syria at the end of this month after complaining about a lack of international support for his six-month campaign to make Assad and opposition fighters end their hostilities.

The United Nations plans to maintain a political liaison office in Damascus to support the mediation efforts of his successor, veteran Algerian diplomat Lakhdar al-Ibrahim.

Officials have said the liaison office would probably be made up of between 20 and 30 people, including political, humanitarian and military experts.