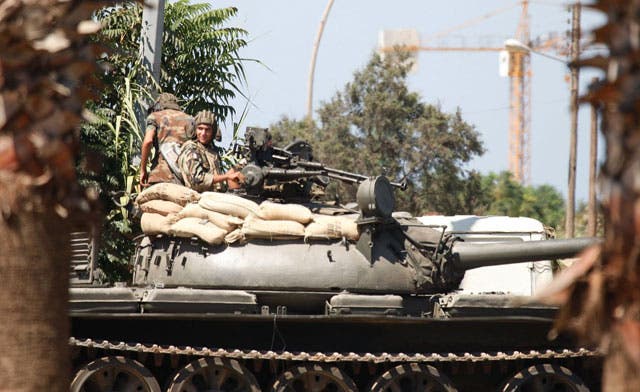 Death toll rises to six in Lebanon clashes that echo Syrian conflict
At least six people were killed and dozens were wounded on Tuesday in clashes pro- and anti-Damascus regime supporters in northern Lebanon as the war in neighboring Syria inflamed tensions there again, security and medical sources said on Tuesday.

Gunmen in the Sunni district of Bab al-Tabbaneh and their Alawite rivals in Jebel Mohsen exchanged gun and grenade fire in sporadic fighting overnight and into the day, despite action by Lebanese troops deployed in the port city, residents said.
Two of the dead men were identified as residents of Jebel Mohsen, a hill inhabited mainly by Alawites which overlooks the predominantly Sunni area below, where two other people were killed, medical sources said.

The area is one of Lebanon's most volatile sectarian fault lines and chronic Sunni-Alawite tensions in Tripoli have been heightened by the 17-month-old, mainly Sunni, uprising in Syria against President Bashar al-Assad, an Alawite. Clashes in the city killed 15 people in early June.

An army statement said soldiers had raided buildings used by gunmen and "retaliated swiftly against sources of gunfire." It said five soldiers were wounded on Monday evening and that another five, including an officer, were injured on Tuesday by a hand grenade lobbed at an army base.

In addition, more than 35 civilians or fighters were wounded
Prime Minister Najib Mikati warned against the "absurd battle" rocking his hometown, Lebanon's second largest city.

"We have repeatedly warned against being drawn into this blaze that has spread around Lebanon," he said of the violence in Syria. "But it is clear that several parties wanted to push Lebanon into the conflict."

Mikati pleaded with Tripoli residents "not to allow anyone to transform you into ammunition for someone else's war."

Her called on the security forces to "do their utmost to stop this absurd battle."

The violence was centered around the aptly named Syria Street, the symbolic "dividing line" between the rival Tripoli districts of Bab el-Tebbaneh and Jabal Mohsen.

Lebanon's military said on Tuesday it "has seized a quantity of guns, bombs and ammunition."

Tripoli has been rocked by deadly clashes in recent months between supporters and opponents of the Damascus regime as the conflict in Syria worsened with more than 23,000 reportedly killed there since March 2011.

The latest fighting erupted after a wave of tit-for-tat kidnappings of Lebanese citizens in Syria and Syrians in Lebanon.

In the latest episode last week, an armed Lebanese Shiite clan claimed it had kidnapped around 20 Syrians in retaliation for the abduction of a family member by a Syrian rebel group, which accused him of being a Hezbollah sniper.

Many more were reportedly seized as rioters went on the rampage in Beirut.

The opposition Syrian National Council accused authorities of failing to act over the attacks and implicitly blamed the Iran- and Syria-backed Shiite Hezbollah which heads a ruling coalition in Lebanon.

"Syrians in Lebanon have been abducted by political parties, and subject to arbitrary arrests by security agents, without the authorities so much as lifting a finger," the SNC said in a statement.

Hezbollah, considered Lebanon's most powerful military force, has denied any connection with the clan member or the kidnappings.

The SNC also said Lebanese army intelligence on Monday raided the home of a Syrian humanitarian activist and arrested two of his colleagues, and that they also arrested a Syrian lawyer.