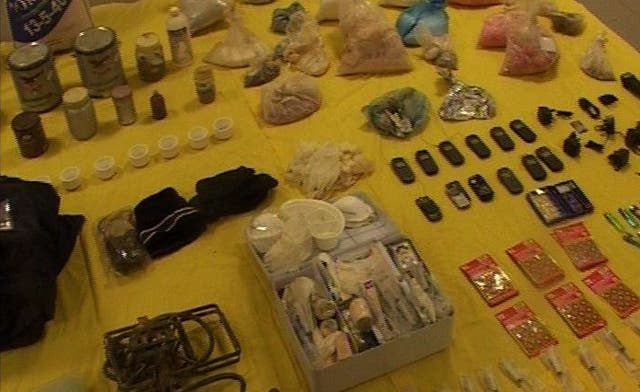 Saudi Arabia foils terror plot, busts two cells: interior ministry
Saudi Arabia has busted two terror cells in Riyadh and Jeddah, foiling their plans for attacks on the two cities, the country's interior ministry announced Sunday.

The statement by ministry spokesman Mansour al-Turki said eight people -- two Saudis and six Yemenis – had been arrested and as they prepared "criminal attacks" on security forces, Saudis, foreigners and public buildings in the kingdom.

"With grace of Allah the security forces were able to arrest a citizen who leads this cell and he provided detailed information about its members, plans and equipment," the statement said.



The activities of the suspects were tracked for several months, and found linked to a terror group outside the country, it said. All captured suspects had confessed, it said, naming just three of them: Assad al-Hasour, Fares al-Maaraka, Nimr al-Jihad and Abu Jandal Yamani.

"Through intensified tracking of these elements, it became clear that they had reached an advanced stage in the process to achieve their goals, including the preparation and the processing of explosives and experimenting with them outside the city of Riyadh," said the statement obtained by Al Arabiya said.

Photos of the alleged bomb-making materials were provided with the statement on the Saudi press agency website. Authorities said they inspected three locations, including a room in a mosque in Riyadh, and found the cells in possession of incriminating documents, chemicals that could be used for explosives, cell phones to be used as detonators, and cash.

In the process of making explosives, one of them had been burned and lost fingers, said the statement. It also chided the suspects for "stray thinking," by accusing people of apostasy and issued a warning not to cooperate with or shelter terrorists.

Saudi political analyst Yousef al-Dayni told Al Arabiya that the increasing numbers of Yemeni nationals involved with terrorist plots in the central region of Saudi Arabia is a result of the instability and unrest in Yemen.

"Previous plots were limited and linked to the border area between Saudi Arabia and Yemen. This time the terrorist cells reached Jeddah and Riyadh," he said.

Al-Dayni said the existence of a location containing chemical materials to make explosives indicates that al-Qaeda is reverting to its old strategy of depending on specific individuals to perform atypical operations.