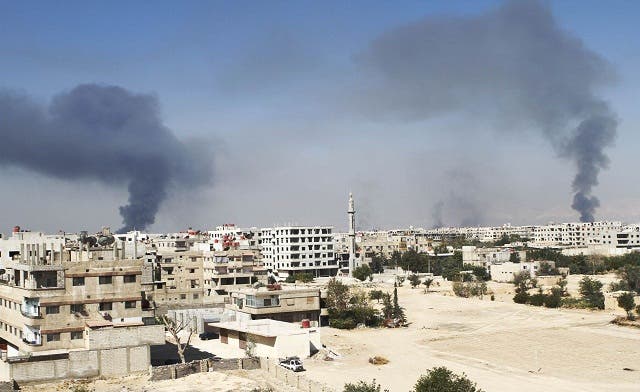 FSA claims bombing of army headquarters in Damascus
FSA member Abu Nouri said the opposition army was behind the Damascus blast, and that the headquarters had been infiltrated by the rebels, who planed Improvised Explosion Devices inside.

Damascus-based political activist Abu Hisham al-Shami told Al Arabiya that there would likely be more attacks against regime targets in the Syrian capital, including the presidential palace.
Syrian state television reported twin bombings near security service buildings in the center of the capital on Sunday and said they wounded four people.

"A terrorist attack with two bombs occurred in Al-Mehdi Street in the Abu Remmaneh district," it said of a zone where several security service buildings are located and that also houses the office of Vice President Faruq al-Shara.

Earlier, state media reported that a car bomb explosion near a mosque at Sbeneh in the southern outskirts of the capital on Saturday killed 15 people. Sbeneh is a poor neighborhood where anti-government sentiment is strong.

Damascus residents said the explosion was heard near the army and air force headquarters in Mahdi bin Barakeh neighborhood in the Abu Remmaneh district.
Air raids in Aleppo
In Syria's second city of Aleppo, air strikes were carried out Sunday on the residential area of Al-Bab, a rebel rear base outside the city as columns of smoke rose from the northern commercial hub.

Fighting in Aleppo was limited to a handful of neighborhoods, opposition fighters said, although mortar blasts shook the battlefront district of Salaheddin and a warplane circled over the city.

"Clashes today are concentrated in the neighborhoods of Salaheddin, Omriya and Izaa," a rebel fighter manning a checkpoint told AFP.

There had also been fighting near Aleppo's international airport and a military air base.

It was difficult to determine casualty figures in the ranks of the FSA as most doctors are only willing to give details on civilians, most of them hurt during shelling.

A hospital near the contested neighborhoods of Salaheddin and Seif al-Dawla, which were quiet compared with previous days, received the corpses of three fighters early in the morning, a doctor said.

"Fighters bundled them up in sheets and took them away before we could write down their names," said Dr Jacques Beres, a Frenchman on his third humanitarian mission to Syria this year.

There were at least six rebels wounded in Sunday's clashes, including a young man whose face was pierced by a bullet that entered from one cheek and exited from the other, said an AFP journalist who visited two hospitals.

Meanwhile, Al-Shifaa hospital, which mainly treats civilians, recorded the deaths of a man and a boy killed by shrapnel when an artillery round hit their home in Al-Muasalat neighborhood.

A doctor who only identified himself as Osama said he had "received three people with severe head injuries" early in the morning.

Patients from the rebel ranks typically suffered severe bullet wounds to the neck and head and lighter injuries caused by shrapnel, he said, stressing that in 50 days of conflict he had "never treated a fighter hit by mortars or shelling."

Nurses at Al-Shifaa treated a one-year-old boy, Omar, who screamed in pain when disinfectant was applied to a gash on his forehead caused by shrapnel, the AFP journalist reported.

In nearby Al-Bab, a base for FSA fighters just 30 kilometers north of Aleppo, residents woke up to bombing which destroyed a car repair shop and another building but caused no casualties.

"The plane circled and circled and circled before it dropped the bomb," said Ahmed, a resident of the town which is periodically targeted. He pointed out fragments of vehicles protruding out of the debris.

Columns of smoke also rose over three patches of farmland along the road connecting the town of Al-Bab to Aleppo, according to AFP journalists who visited both cities.

And a MiG fighter jet overflew the eastern perimeter of Aleppo in the late afternoon.