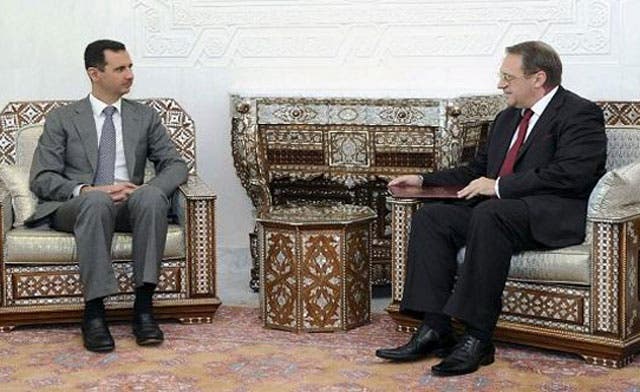 Russia says Syria's Assad would leave if voted out
President Bashar al-Assad has told Russia he would be ready to step aside if Syrians chose another leader in an election, Russian Vice Minister Mikhail Bogdanov said in remarks published on Monday.

French newspaper Le Figaro quoted him as saying in an interview after meeting Syrian dissidents in Paris that the "regime is still solid" and supported by an important part of the population who feared those who could take his place.

"Assad told us himself. But I don't know how sincere he is," Bogdanov said. "But he clearly told us that if the people didn't want him, and if they chose a different leader in an election, he would go."
The vice minister also told Al Arabiya in an interview "the solution for Syria should revolve around national dialogue and reconciliation."

"We will not participate in any internal strife, we wish that our Arab and Muslims friends to solve the problem [in Syria] peacefully."

He described Syria as a traditional ally with relations spanning decades and rejected toppling of Assad regime before the completion of a transitional political period, asking "then what is the point of a political process if it is dismissed."

Like Russia, China also backs political transition in Syria to end worsening bloodshed after 18 months of unrest.

The U.N. Security Council has been prevented from taking stronger action by China and Russia. Both have blocked three Western-backed resolutions that criticized Assad and threatened sanctions against Syria.
As talks over the Syrian conflict continue, so is violence.

Syrian rebels have summarily executed at least 20 soldiers in the embattled northern city of Aleppo, the Syrian Observatory for Human Rights said on Monday.

Captured at a military compound during a rebel attack in the eastern district of Hanano, the soldiers had their eyes blindfolded and hands tied behind their backs before they were lined up and shot, sometime over the weekend, Observatory director Rami Abdel Rahman said.

U.N.-Arab League envoy Lakhdar Brahimi on Monday began what he called a "very difficult" mission to bring peace to Syria, as delegations from Turkey, Saudi Arabia and Iran met in Cairo to find a way out of the crisis.

Brahimi, replacing former U.N. chief Kofi Annan who quit over divisions in the U.N. Security Council on the deadly violence that has gripped Syria for nearly 18 months, arrived in Cairo late on Sunday.

"I realize it's a very difficult mission, but I think it is not my right to refuse to give whatever assistance I can to the Syrian people," Brahimi told reporters after talks with Arab League chief Nabil al-Arabi.

"I am at the service of the Syrian people alone," he said, adding: "I will go to Damascus in a few days and I will meet officials and civil society members in the capital and outside."

Asked if he would meet Syria's President Assad, Brahimi said: "I hope to but I don't know."