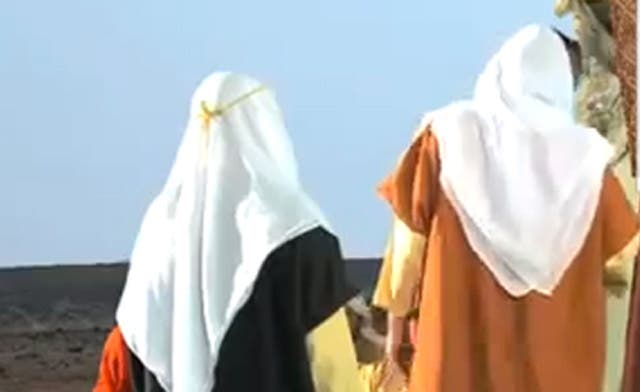 'We were conned,' actors in anti-Islam film tell Al Arabiya
Actors who appear in the online video that has sparked violence across the Middle East told Al Arabiya they had no idea the film was connected to the Prophet Mohammed in any way and suggested they were tricked into participating in a 'hate film.'

Al Arabiya spoke to two of the actors who appear as extras in the video production on condition of anonymity. Both of them distanced themselves from the film with one of them describing it as 'defamatory' and another saying they were shocked to have been part of 'something so dirty and disgusting.'

Both actors played extras in the opening sequence of the 14 minute YouTube video and spent one day on set. One of them featured as a young Christian woman wearing a crucifix being attacked by an angry mob and said she was paid approximately $100 by cheque for a day's work.
"They've turned this into something so distorted," she told Al Arabiya in an exclusive interview. "I would never in a thousand years have been involved in anything that was so offensive to any religion or any belief system."

She added: "There was nothing that would have tipped us off that [the director] would have used this film as propaganda against Muslims. There was nothing that could have tipped us off."
Barely minimum wage
The other actor, who said he received a cheque for $75 from the director at the end of the day's shoot, said he noticed that portions of the dialogue in the video seemed dubbed and he said it looked like mentions of the Prophet Mohammed and derogatory remarks were added on later.

"The name Mohammed was never mentioned on set. There was no reference to it being about [Prophet] Mohammed," the actor said.

"I thought it would be a hero story of a Muslim guy. I assumed it would be some sort of hero's journey story in an Afghanistan town," the actor said.

The actors said they did not receive a copy of the script. As a general rule in the film industry, extras do not receive scripts.

According to an email seen by Al Arabiya, both actors were booked by the same Santa Monica-based casting service 'Uncut Casting Services' as 'background' -- an industry term for extra- on a film titled 'Desert Warrior.'

The fee listed by the casting service was $55 for 6 hours, just above minimum wage in the state of California, and the brief for the shoot described the scene as 'all heck breaks loose in this small town and everyone goes running (or walking really fast) for their lives!'
No response
The owner of 'Uncut Casting Services', Jacques Castro, did not respond to Al Arabiya's request for comment.

The one-day shoot both actors participated in took place on Sunday Aug. 21, 2011 at the Blue Cloud Movie Ranch in Santa Clarita, north of Los Angeles, according to emails sent by the casting service to the actors.

Rene Veluzat, the owner of the ranch, which has served as a location for films including the blockbuster 'Iron Man', did not respond to requests for comment. The ranch lists among the set locations it provides a 'Middle Eastern town', a 'Baghdad Square', and 'Desert area and roads.'

One of the actors said he has worked on other productions at the same location since filming 'Desert Warrior.'

The film's director and producer, whose true identity remains shrouded in mystery, was described by one of the actors as middle-aged, heavy set, with brown skin and grey-black hair and between 5'7 and 5'9 tall.

One of the actors recalls that the director initially gave his name as Sam Bacile, but that this was not the name that appeared on the cheque he received at the end of the day. He later said that the director's name was 'Nakhoul' or 'Nakhoula.'

Both actors say the director introduced them to his young son on set, who also appeared in the video, and that the son's surname was given as 'Nakhoul.' Both say the director's son befriended them on Facebook after the shoot and say his profile indicated he was Egyptian. One of the actors told Al Arabiya that the director's son had 'un-friended' them by Thursday.

One of the actors described the son as "a cute warm kid," adding "you would never think somebody would bring their son on set for something so controversial, nothing tipped us off."

After completing the one-day shoot, both actors said they did not hear from the director or receive any information about the film's distribution or release date. They learnt of their involvement in the now infamous online video allegedly titled 'Innocence of Muslims' through local media reports.

"I was in shock, I was just shaking," one of the actors told Al Arabiya when asked about their reaction to the film and their involvement in it.

The actor went on to say: "It saddens me. Yes, its offensive but it doesn't justify killing," adding "even if we did take part in something that was controversial, it doesn't justify taking a life."
It's a joke
"It's a joke. Who would take this seriously? We don't have any bad intentions, somehow we got entangled in this and the only thing we can do is clear things up," the actor said.

One of the actors said they are considering legal action against the casting service 'Uncut Casting Services.'

"It is their obligation to take care of us," the actor said, explaining that casting services for extras either get paid monthly fees by the production company or receive a percentage of what the extras make.

"It is their obligation to make sure we are sent out on projects that are legitimate and not something shady," the actor said. "They should be doing the research so we aren't put into dangerous situations."

"There are so many crazy people out there, just by being in this film, being associated with it, I'm putting myself in danger which is not something I signed up for."

Both actors remarked on the poor quality of the film and low budget nature of the production.

"This is one of those films that's so low budget and so bad you don't think anybody is going to see it," one of the actors said.

The online video, a bizarre and poorly executed montage of sequences portraying the Prophet Mohammed in a highly offensive manner, allegedly cost $5 million according to some reports.
Low production, poor script
Al Arabiya showed the 14 minute YouTube video to professional film makers working at a leading London-based film post production company who said it seemed "inconceivable" that the film was made by a serious film maker.

"The production values are so low and the acting and script so poor that it would not even make the cut for a student film festival," the film-maker, who requested anonymity because he was not authorized to speak on the matter, told Al Arabiya.

Of particular note was the lack of any attempt to conceal the over-dubbing of offensive lines of dialogue.

"This is either a very amateur piece of work or it is deliberately exposing its own low budget credentials," he said.

"A resourceful student could have made this YouTube video for a few thousand dollars. Even paying through the nose I can't imagine it costing more than $40,000. It is absurd to suggest that it had a budget of $5 million," the film maker said.


(Carina Kamel is a Senior Correspondent for Al Arabiya and can be followed on Twitter @Carina_bn)