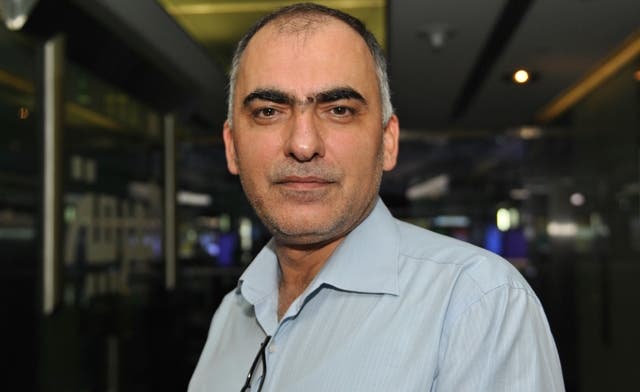 Al Arabiya's Tehran correspondent: this is why I was kicked out of Iran
On Sept. 9, 2008, I headed to Dubai with my daughter, having been expelled from Iran -- where I was a correspondent for Al Arabiya -- upon instructions from the ministry of intelligence and national security. I was not given the chance to arrange for my entire family's departure, so I had to leave my wife and son behind, not knowing what might happen to them.

I was targeted because I worked for Al Arabiya, which was constantly accused of being anti-Iranian. It started with the parliamentary elections in March 2008, during which the news organization's reports were labeled "seditious" and "false."

That month, Saeed Jalili, secretary of the Iranian Supreme National Security Council, visited me and conveyed the authorities' discontent with the way Al Arabiya covered the assassination in Syria of Hezbollah's leading operative Emad Mughniyeh.
They objected to Mughniyeh being described as one of the world's most wanted terrorists for his role in several assassinations, abductions and hijackings. "Emad Mughniyeh is a red line," Jalili told me menacingly.

That was when I realized that a plan to tighten the noose on Al Arabiya had started. Soon after, a decree was issued banning its correspondents and crew from taking part in any activity related to the presidency.

Even when we were invited to take part in an event held by the Organization of Cultural Heritage and Tourism under the auspices of the president, we received a phone call from the presidency's media office asking that no one from Al Arabiya attend.
Participation reduced to minimum
Shortly after, our participation in activities related to the foreign ministry was reduced to a minimum, and we were banned from the National Security Council. The Ministry of Culture and Guidance, in charge of local and foreign media operating in Iran, was helpless in our requests for an explanation to these restrictions.

This made professional, accurate coverage of Iran very challenging, but I managed to obtain information on the presidency and foreign ministry through connections I had with Iranian and foreign journalists.

Someone known to be close to the president told me that the blockade against Al Arabiya would be lifted if I put some officials from the presidency in touch with Gulf dignitaries for "commercial purposes only … no politics."

However, the situation worsened when Al Arabiya aired a video showing the execution of two Revolutionary Guard officers by the Jundallah militia in Baluchistan.

I received a phone call very early in the morning from the head of the Foreign Press Division at the Ministry of Culture and Guidance, asking me to come to his office immediately. The moment I met him, and before I was able to sit down, he snapped: "Am I supposed to bring all Al Arabiya staff here and threaten to kill them, or actually shoot them, so they stop airing this material?"

I tried to calm him down by telling him that the channel was only doing its job. "It wasn't Al Arabiya that abducted or executed your people," I told him. He then showed me an order signed by the supreme leader of Internal Security, which contained the interior ministry's decision to close down Al Arabiya and refer its bureau chief in Tehran to court. He said that he was trying his best to convince the ministry to think it over, and that he would send an official request to that effect.
Al Arabiya did not invent the description
In May 2008, Hassan Hani Zada, editor-in-chief of the semi-official Mehr News Agency, slammed Al Arabiya for referring to his agency as close to the Revolutionary Guard. We contained the situation by telling him that this was how the agency was described by all international media outlets, and that Al Arabiya did not invent this description.

Our coverage of Hezbollah's takeover of the Lebanese capital Beirut on May 7 again stirred the indignation of the Iranian authorities, with state media accusing Al Arabiya of tarnishing the image of Hezbollah and Iran's allies in general. The issue was even discussed in meetings held by Iranian army commanders, where there was a strong tendency towards closing Al Arabiya's office in Tehran.

I managed to meet with General Gholam Ali Rashid, deputy chief of staff in the Iranian army, and was able to ease the tension somewhat, but the decision to close down Al Arabiya remained pending somewhere between the army and the Ministry of Culture and Guidance.

We were again accused of tarnishing Iran's image after Al Arabiya aired a BBC documentary about Khomeini and the Islamic Revolution. The authorities considered the film a declaration of war, a media war, by Al Arabiya.

Meanwhile, I received an email from our headquarters in Dubai with pictures of a Sunni mosque destroyed in Sistan and Baluchistan Province. Asked if this really happened, I replied that much worse was happening in Iran, but that Al Arabiya was seen as anti-Shiite, and this had to be taken into consideration when running the story about the mosque.

When I was in Beirut to visit my wife in hospital, an Iranian journalist close to intelligence and state security circles called me, referring to a website claiming that I work for Saudi intelligence against Iran. I told him that this website was known to be owned by a Canada-based Hezbollah loyalist, and that these were baseless and slanderous allegations.
Fierce campaign against Al Arabiya
The campaign against Al Arabiya in Iran, and against me personally, became fiercer as politicians and members of parliament stepped in. Alaeddin Boroujerdi, head of the National Security and Foreign Policy Committee in parliament, called for closing our office in Tehran and kicking all staff out of the country. Hamid Reza Hajibabaei, a member of the same committee, backed Boroujerdi and accused us of conspiring against Iran to serve American and Israeli agendas.

Meanwhile, 11 student unions affiliated with the conservative camp issued a statement calling on the Ministry of Culture and Guidance to close down Al Arabiya in Tehran and put its bureau chief on trial. They also called for demonstrations in front of the office.

I called for a staff meeting, and advised them to be very careful and to refrain from responding to any provocations. I told them that if they saw any rallies in front of the building, they should just lock the doors, and stay inside or go up to the roof. I also warned them against any form of resistance if the office was attacked.

At that time, I was enrolling in a PhD in Persian literature, and had already obtained approval from the university to start the following semester. While I was getting permission from the ministry of education - supposedly the last step in the process - I was met with another hurdle: they asked me for security clearance.

I talked to the person in charge of international students' affairs, who is directly appointed by the ministry of intelligence and national security. Playing on the fact that I am a Lebanese Shiite, he suggested that if I cooperated with security institutions in Iran, I would soon be influential in Iranian media circles, and would enjoy all the privileges granted to foreign journalists who cooperate with the authorities.

If I refused, he explained, I would not be permitted to study at the university. I told him that being Shiite did not mean that I would become an Iranian agent. I rejected his blackmail, and he rejected my university permission.

Allegations about my work for intelligence agencies in the Gulf came to the surface again. State newspaper Kayhan published an article accusing me of being the liaison between Iranian reformists and the ambassador of a Gulf country in Tehran. Reformist media started defending me and Al Arabiya, and it turned into a daily battle on the pages of conservative and reformist newspapers.
No longer welcome in Iran
On Sept. 1, 2008, I went to the Foreign Press Division at the Ministry of Culture and Guidance in the hope of getting a travel permit. However, the assistant general manager told me that the Security Department at the ministry was refusing to issue the permit, and that the general manager wanted to see me the next day. I was at his office the following morning.

I told him that I could neither get a travel permit nor renew my residency in Iran, which was going to expire in less than two months. I told him about the threats, blackmail and character assassinations I was subjected to. He told me that I was no longer welcome in Iran, and that my travel document would remain with the Ministry of Intelligence and National Security until 48 hours before my flight.

I informed Al Arabiya's head office of the developments, and told them that I would leave Iran as soon as I could find a ticket. The soonest available date was Sept. 9.

The day before my departure, I called a senior official I knew to bid him farewell. He told me that he was very surprised at my deportation, of which he had heard from official media. He asked to meet me in his office in an attempt to find a solution.

As I became worried that I might be prevented from leaving, I booked another flight on the same day, so I ended up with two seats on different airlines. I agreed to meet him on the day of my departure.

He was accompanied by Alaeddin Boroujerdi, head of the National Security and Foreign Policy Committee, who was summoned especially from a parliament session. My acquaintance asked me about the reasons behind the deportation decision.

I recounted the whole story, including Boroujerdi's role, although I did not mention him by name. Boroujerdi objected to the way I spoke, but I insisted on including all the details about how I had been constantly threatened and harassed.

I said that deporting me was a smart step, since Iranian media would not have to say that the authorities closed down Al Arabiya, but simply that its correspondent left the country. This, I explained, would serve two purposes: closing down Al Arabiya, and getting rid of a troublesome journalist.

I added, however, that the long-term impact of this decision would be very negative, depriving the Iranian regime of the chance to be heard abroad and respond to criticisms.

My acquaintance said he would try his best to revoke the decision by mediating with the relevant bodies at the Ministry of Intelligence and National Security. However, I was adamant that I should leave, as I had obviously outstayed my welcome.