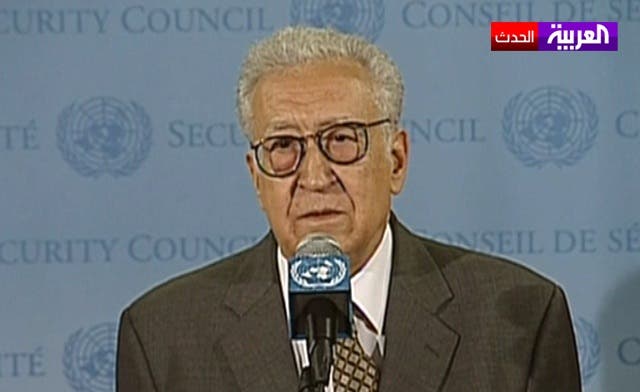 Assad wants to return to 'the old Syria,' says U.N. envoy Brahimi
U.N.-Arab League envoy Lakhdar Brahimi said Monday he sees no immediate prospect for an end to the Syrian conflict, adding that President Bashar al-Assad wants to return to "the old Syria."

"There is no prospect for today or tomorrow to move forward," Brahimi told reporters after briefing the U.N. Security Council on his recent talks with Assad.

Brahimi told the 15-nation council that the Syrian government estimates there are 5,000 foreign fighters in the country and is increasingly portraying the conflict as a "foreign conspiracy," envoys at the meeting told AFP news agency.

He said Assad "knows that something must change," according to a second envoy in the meeting.

Assad, however, only wants to return to "the old Syria" which he and his father have ruled for more than 40 years, Brahimi was quoted as saying.

The former Algerian foreign minister, who reported on his recent talks with Assad in Damascus, painted an increasingly grim picture of the 18-month-old conflict in which activists say more than 29,000 people have died.


Brahimi told the council that the torture of detainees has become "routine" and that people were now afraid to go to hospitals which were in the hands of government forces.

The envoy estimated that 1.5 million people have now fled their homes and said Syria faces growing food shortages because harvests have been slashed by the fighting between government forces and opposition rebels.

Brahimi's comments came amid heavy fighting between Syrian regime forces and the Free Syrian Army across Syria on Monday.

Three children from one family were killed in an air strike on a building in a central district of the embattled Syrian city of Aleppo on Monday, the Syrian Observatory for Human Rights said.

"Three children from the same family were killed when their building collapsed in Maadi district, which is located in the Old City of Aleppo, 600 meters (yards) from the citadel," the watchdog's Rami Abdul Rahman told AFP.

Brahimi met with the U.N. Secretary General Ban Ki-moon on Saturday to discuss his recent trip to Damascus, where Brahimi met with Assad.

"(Ban and Brahimi) focused on how to address the appalling levels of violence in Syria and how to progress towards an inclusive political solution that will address the legitimate demands of the Syrian people," the U.N. press office said.

"The worsening crisis in Syria represents a steadily increasing threat to regional peace and security," it said according to AFP.
Brahimi, who was appointed to revive U.N. peace efforts in Syria, said last week that the crisis may spread regionally if the bloodshed isn't contained.

On Sunday, regime aircraft hammered insurgent bastions nationwide as rebels said they now control most of the country and have moved their command center from Turkey to "liberated areas" inside Syria.

On the ground, scores of people were killed on Sunday, the Syrian Observatory for Human Rights said, as Syrian aircraft carried out strikes on rebel bastions, especially in central Homs province, Deir Ezzor in the east and areas of Damascus.

Apartment blocks in Albu Kamal, a town in oil-rich Deir Ezzor province, were targeted as rebels and soldiers battled on the ground in several districts of the town on the Iraqi border.

"The insurgents are trying to wrest control of this strategic town" said Observatory chief Rami Abdul Rahman. Losing Albu Kamal would be "a deadly blow for the regime," he added.

Helicopter gunships opened fire on the Damascus neighborhoods of Barzeh and Qaboon as well as the suburb of Harasta, while troops pounded rebel areas in Aleppo in the north and neighboring Idlib and Deraa in the south, the Observatory reported.

A blast shook central Damascus near a five star hotel and the national museum, the watchdog said quoting witnesses who added that the explosion may have targeted a military vehicle.

The Britain-based group, which gathers information from a network of activists on the ground, said warplanes also raided Jebel al-Akrad in the coastal province of Latakia.

In Aleppo, rebels destroyed two fighter planes on the ground in Orm, a rebel commander told AFP.

Residents in the village of Bianoun north of Aleppo told AFP that aircraft also hit a rebel house where a meeting was underway, destroying it and killing everyone inside. The report could not be independently verified.

Security forces also carried out raids and arrested several civilians in the southern Damascus neighborhood of al-Hajar al-Aswad, the Observatory said.

As the fighting continued unabated, Colonel Ahmed Abdul Wahab of the Free Syrian Army said the regime's aerial superiority was the only thing preventing the FSA from taking control of the capital.

"We control most of the country. In most regions, the soldiers are prisoners of their barracks. They go out very little and we can move freely everywhere, except Damascus," Abdul Wahab told AFP.

"With or without outside help, the fall of the regime is a question of months, not years," he said.

"If we had anti-aircraft and anti-tank missiles, we could quickly gain the advantage. But if foreign countries don't give us these, we will still win. It will take longer, that's all."

Abdul Wahab, a colonel in the regular army only nine months ago, said his defection was driven by "the magnitude of the crimes of the regime, which is killing its own people."

He said he commands four katibas (battalions) which make up the "Nasser Salaheddin" brigade in Aleppo and the region.

Abdul Wahab said he attends daily meetings with FSA leaders in the northern metropolis, where orders are given to him and other battalion commanders.

On Saturday, the FSA said the next step would be to "liberate" Damascus as it announced that it has moved its command base from Turkey to areas it controls inside Syria.

"The Free Syrian Army command has moved into liberated areas of Syria following arrangements made with battalions and brigades to secure these zones," FSA chief Colonel Riyadh al-Asaad said in a video posted on the Internet.

Nearly 80 percent of towns and villages along the Turkish border are outside the control of Damascus, according to the Observatory.

And in Damascus, 20 government-tolerated opposition parties met on Sunday to discuss a solution to the crisis in the presence of the ambassadors of Russia and Iran, staunch allies of Assad's government.

Raja al-Nasser of the National Coordination Committee for Democratic Change called at the meeting for an end to the "barbaric bombing" to move toward a political process that would "put an end to the current regime."