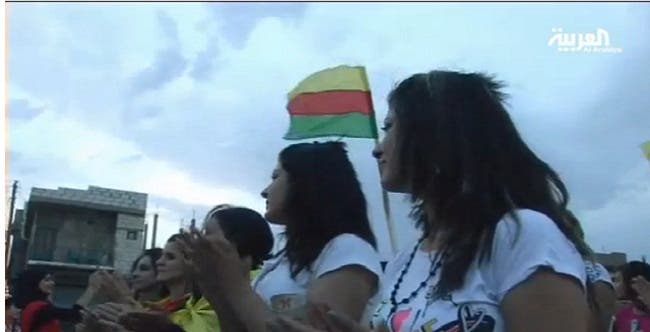 Syrian Kurds move to rule themselves as Assad's grip loosens
Pictures of former Syrian president Hafez al-Assad and his son Bashar, the current president, are still visible in the northeastern city of Qamishli, which the Kurds of Syria consider as their capital. But the images are no longer an indication of how influential the regime is still is in the city.

In predominantly Kurdish areas, the regime is theoretically still in charge, but lacks the ability and the potential to perform, thereby leaving the Kurds to administer their affairs.
The type of control the regime exercises in Kurdish areas varies from one city to another, said Faisal Yusuf, head of the National Kurdish Council.

"In al-Hasakah governorate, the presence of the regime is mostly felt in the capital city of al-Hasakah and in Qamishli, but otherwise security forces have mostly withdrawn from the cities," he told Al Arabiya.

The cities of Amuda and Dirik are starting to enjoy a great deal of autonomy as Kurds begin to revive the symbols of their identity which the regime has sought for decades to erase.

People are starting to learn their mother language, once banned by the regime. They say they would soon teach it in schools and make it the official language in their region.

In matters of security, the regime has almost disappeared. Armed members of the Kurdish Democratic Union Party (PYD) have set up checkpoints in different Kurdish cities where they are practically replacing the police.

Even in cities that still retain a little bit of security presence, Kurds are in charge and no clashes whatsoever take place between the two parties in what would seem like an agreement between both.

However, PYD chairman Salih Muslim denies the existence of such an agreement between Kurdish factions and the Syrian regime.

"We have not made any agreement of any sort with security forces, but we don't see a point in clashing with them," he told Al Arabiya.

Muslim added that in some places there are regime checkpoints quite close to the Kurdish ones and this is what might have given the impression that there is an agreement.

"The current circumstances made this happen. That is all."

More than three million Kurds in Syria are waiting to reap the fruits of the revolution. In addition to the cultural rights they have been seeking for years, Kurdish Syrians are also hoping they would be able to control around 1,300 oil wells located in their areas in order to gain leverage in the Syrian scene.