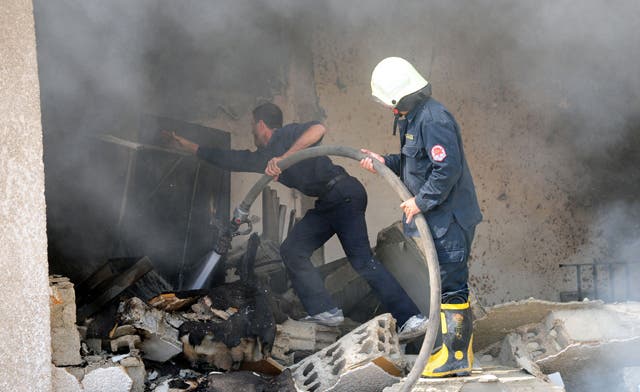 Scores killed as blast hits Palestine branch of Syrian intel in Damascus
A huge blast hit the Palestine Branch of the Syrian Intelligence in Damascus on Tuesday, leaving scores of people killed and injured, including high-ranking officers, Al Arabiya reported.

The blast was claimed by both the Damascus Revolutionary Council and the so-called Prophet's Grandchildren Brigades.

"Dozens of officers and shabbiha [regime militias] were killed in the blast," the Prophet's Grandchildren Brigades told Al Arabiya.

One of our men planted the explosives inside the fuel tank of the branch, it said, adding that a major general and two colonels were killed in the attack.
Residents said smoke was billowing from the area in southeastern Damascus and an activist said ambulances were rushing to the scene.

"At exactly 9:35 a.m., seven improvised devices were set off in two explosions to target a school used for weekly planning meetings between shabbiha militia and security officers," said Abu Moaz, a leader of Ansar al-Islam, one of the rebel groups in the 18-month-old revolt against President Bashar al-Assad, according to Reuters.

No reports of the blast were available on Syria's state news agency or pro-government television stations.

"There were several officers present, and we are hoping they will be part of a large number of killed in this operation," he Abu Moaz said.

Southern Damascus has become a battleground between Assad's forces and opposition fighters. Last week, the army bombarded rebel strongholds there to flush them out of the capital, once seen as Assad's untouchable seat of power but now a site of daily fighting in the 18-month-old revolt.

Damascus residents also reported heavy clashes for two hours on Baghdad Street in a central district of the capital just to the north of the Old City.
Mortar rounds fall on Golan
Meanwhile, Syrian mortar rounds, apparently fired during fighting between government forces and rebels, fell in Israeli-held territory early on Tuesday but caused no casualties, the Israeli military said.

The army said that an undisclosed number of rounds fell on the Golan Heights, which Israel captured from neighboring Syria in the 1967 Six-Day War and unilaterally annexed in 1981.

"Earlier this morning several mortar shells landed in the Golan Heights, causing no damage or injuries," a spokesman said. "The shells were aimed at villages inside Syria and are part of the ongoing internal conflict."

He added that the Israeli military had filed a complaint with United Nations forces responsible for the border area, "saying that fire from Syria leaking into Israel will not be accepted."