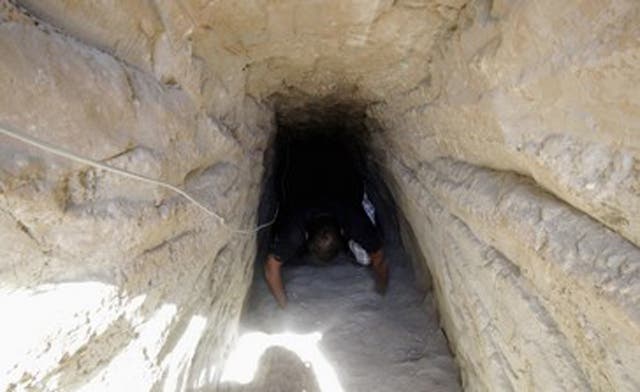 Gazans face food shortages as Egypt closes tunnels
For many years, the tunnel economy in the Gaza Strip was a growing one. Around 1,000 tunnels were dug to smuggle goods, connecting the southern Gaza town of Rafah and the Egyptian Sinai Peninsula.

But since an August attack that killed 16 Egyptian border guards in Sinai, the Egyptian government has closed dozens of tunnels. The crackdown has threatened to dry up essential stocks in the enclave run by the Islamist Hamas group, which has grown angry at stepped-up Egyptian restrictions, tunnellers and officials said.

Hamas supporters held protests near the border demanding Cairo stop closing tunnels, a lifeline for most of Gaza's material needs, from construction to food, until a solution is found to Israel's five-year blockade of the enclave.
"We used to bring out 200 tons of goods, now we only bring out 20 tons, around 20 to 25 tons all day until 9 pm or 10 at night," one tunnel owner, Abu Mohammed, told Reuters Television.

He said the goods that are still being smuggled came from storage in north Sinai and that no new supplies were reaching the areas adjacent to Gaza from Cairo because of security measures imposed at checkpoints along the road.

The construction boom in Gaza could soon come to a halt as all tunnels that used to bring in gravel have been blocked by Egyptian security, according to the tunnellers.

Like hundreds of other workers whose livelihoods were dependent upon smuggling goods through underground tunnels, Abu Mohammed's workers were "sleeping at home" because of the scarcity of work.

Truck driver Mohammed Aqel said prices of some materials like cement and steel was increased by Egyptian merchants, and they were unable to include the difference in prices on the goods they bring because of Hamas's regulations that fixed the rate.

"As for work, we used to have one or two deliveries per week, now there are none, the situation is extremely bad, and of course the goods do not pass from there (Egypt) now, because they hold back the goods and destroy the tunnels. When we compare it to what it was like before the month of Ramadan, our work is now approximately between 20 to 30 percent (of what it was before)," said Aqel.

Hamas was sensitive to higher prices, tunnellers said, as they eyed recent protests in the West Bank, where its rival Palestinian Authority governs, that ensued for several weeks, condemning expensive prices of basic and essential stocks.

Ibrahim Jaber, spokesperson of the Ministry of National Economy, said the closure of the tunnels led to rising prices of construction materials, but hoped it would be temporary.

"A number of tunnels were closed from the Egyptian side and that affected the quantity of materials that were being brought through the tunnels, and especially basic materials like cement, steel and gravel.

These items were influenced by the Egyptian closure (of tunnels)," said Jaber, who occupied the post of Deputy Economic Minister before assuming a new job at the ministry of planning last week.

Jaber put foreign trade that reached Gaza through Israeli controlled crossings at one billion U.S. Dollars in 2011.

As an alternative, Hamas has urged Cairo to allow the Rafah crossing with Gaza to be used for goods, a demand Egypt has been reluctant to deal with for many years citing old international accords that limited the crossing to the passage of people only.

As a second option, Ismail Haniyeh, the prime minister of the Hamas Gaza government, discussed their proposal of a free trade area between Gaza and Egypt with his Egyptian Prime Minister Hisham Qandil, a Hamas government official told Reuters.

Establishing the trade area would represent a blow to the Palestinian Authority whose officials are worried Cairo's new Islamist leaders could bolster the authority of Hamas rivals in Gaza and encourage them to shun a stalled Egyptian-drafted reconciliation pact to end political division between the two sides.

Next to politics such a trade zone would boost Hamas tax revenues at the expense of Israel and the Palestinian Authority who are currently benefiting from imported goods bound for Gaza.

Ismail Abu Naji, a fruit and vegetable market trader, says prices are too high for customers.

"The prices are high, the vegetable prices are high. Onions, tomatoes, cucumbers are all expensive, the people can't afford them. When we tell them that onions are four shekels, they leave it and go away, all the goods are expensive, tomatoes and cucumbers are also expensive, and that's how things are," he said.
The high prices hit the unemployed most.

"The struggle in Gaza is the high cost of living, workers are unemployed, factories are closed, the electricity is cut off 12-hours a day, there's no funding, we take petroleum from Qatar, we take petroleum from the Palestinian authority, and from Israel, and unfortunately the electricity is cut off. Where is the funding and support for all of this?" appealed 57-year-old Deeb Sukkar.