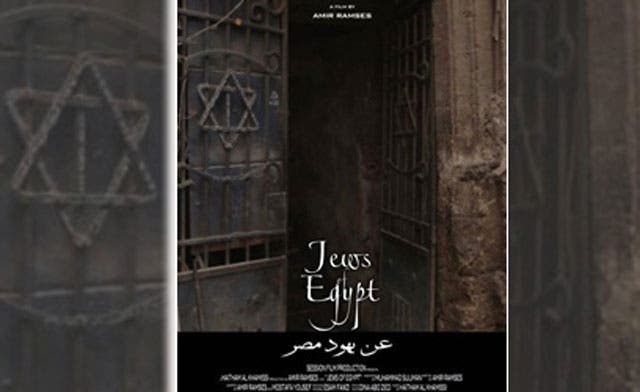 Film about Egyptian Jews stirs 'normalization' uproar
"Jews of Egypt," an Egyptian documentary film that records the life of Jews in Egypt before their departure from the country in the 1950s, has stirred controversy after it was screened in a film festival in Cairo.

Amir Ramsis, director of the film, was accused of promoting normalization of ties with Israel through attempting to gain the audience's sympathy for Jewish Egyptians, currently seen as Zionists by many Egyptians.
"Those accusations are absolutely groundless," Ramsis told Al Arabiya. "Those who think the film promotes normalization either did not watch it or analyzed it very superficially."

It is very obvious, Ramsis explained, that the documentary is against Israel and against normalization.

"The film showed how Jewish Egyptians were against the creation of Israel before the July 23, 1952 Revolution and that many Egyptian anti-Israeli institutions were actually led by Egyptian Jews."

Ramsis noted that the purpose of the film is to set straight many of the misconceptions Egyptians have about Jews.

"Many people do not distinguish between being Jewish and being Israeli or Zionist. Many Egyptians automatically consider Jews enemies."

Ramsis said the film does not seek to embellish the image of Jews either, but basically to "present the truth as well as his own point of view."

Ramsis said that the people he interviewed in the film were either Jews who still live in Egypt or who are currently residing in Europe.

"Egyptian Jews were apprehensive about taking part in the film because they were afraid they would be hunted down by State Security at the time of Mubarak. They were actually given clear instructions not to make any media appearances."

Despite the pre-production obstacles and the post-screening criticism, Ramsis said that the film was very well-received.

"I did not expect that it will be that much-admired by critics, journalists, and viewers alike when it was screened as part of the European Film Panorama in Cairo."

The 95-minute film tackles the life of the Jewish community in Egypt in the first half of the 20th century, which is before their mass exodus following the 1956 Tripartite Aggression launched by Britain, France, and Israel against Egypt.

According to the filmmakers, the documentary seeks to address issues related to changes that Egyptians underwent in the twentieth century. This is done through shedding light on the shift from a general attitude of tolerance and diversity to mixing religion with politics and refusing to accept the other.