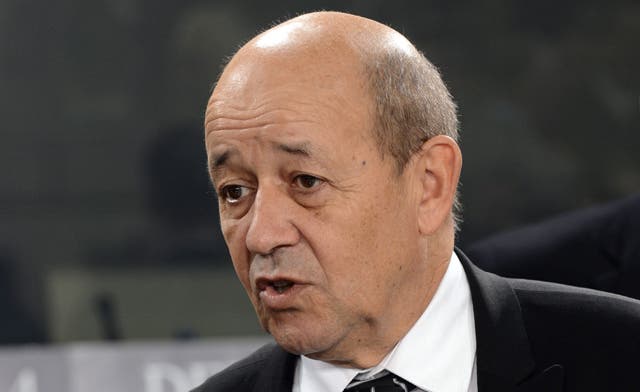 African Mali intervention 'a matter of weeks': France
African military action to oust Islamist militants who seized northern Mali after a March coup will start within weeks, French Defense Minister Jean-Yves Le Drian said Tuesday.

"It's a matter of weeks, not months, weeks," the minister told France 2 television, calling the desert region that was overrun by the extremists "a terrorist sanctuary."

He however reiterated that France would "not send troops on the ground" to join the West African force, but would provide "logistical aid" and help in planning.

Since spring "a number of groups, hundreds of rebels, fundamentalists and those involved in trafficking arms, drugs and humans" have "sliced Mali in two," he said.
"The integrity of Mali assures Europe's security," he said.

Le Drian said U.N. guidelines for such action would have to be respected.

The U.N. Security Council on Friday gave a 45-day deadline for intervention, saying the plan should include "means and modalities of the envisaged deployment, in particular the concept of operations," personnel needed and a cost estimate.

The text, which was mainly drafted by France, also urges authorities in Bamako and representatives of "Malian rebel groups" controlling the north to "engage, as soon as possible, in a credible negotiation process."

European Union foreign ministers on Monday approved moves to "urgently" plan for a possible military mission in Mali.

This will touch on "the organization and training of the Malian defense forces, taking into account the conditions needed to efficiently fulfill a possible mission, including the full and entire support of the Malian authorities," the EU statement said.

The most likely scenario will be the quick dispatch of some 150 senior army trainers, an EU official said.

In March, military coup leaders seized power in Mali's southern capital Bamako, ousting president Amadou Toumani Toure, only to see the country's north and east fall to Tuareg rebels and militias linked to al-Qaeda.

West African regional grouping ECOWAS is preparing to send an intervention force into northern Mali to wrest back control of the region, where Islamists have sidelined the Tuareg separatists and imposed sharia law.

The U.N. is to provide "military and security planners" to ECOWAS, or the Economic Community of West African States, and the African Union to assist with the preparations, according to the U.N. resolution.

After details for military intervention are submitted, the 15-member council would still have to pass a second resolution to give the green light to the deployment. That is not expected to happen before the end of the year.

French President Francois Hollande has stressed the resolution was not just about facilitating a military intervention, but had a political component as well, with armed groups urged to halt attacks and join reconciliation efforts.

"The international community as a whole will stand side-by-side with Mali in this effort" to re-conquer the north, Hollande said in a statement.

"It is now up to the Africans, through the work of ECOWAS and the African Union, to finalize their response to the Malian government's call for help."