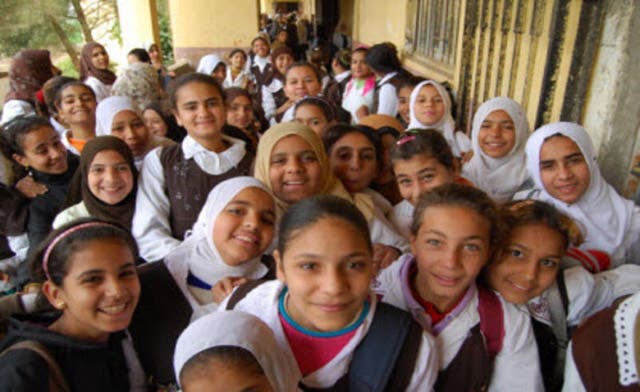 Egypt teacher cuts hair of schoolgirls for not wearing Muslim headscarf
A teacher in southern Egypt punished two 12-year-old schoolgirls for not wearing the Muslim headscarf by cutting their hair, the father of one girl said Wednesday, in an incident that stokes concerns over personal rights following the rise of Islamist political movements.

The governor of Luxor province where the incident occurred called the teacher's actions "shameful" and said she had been transferred to another school. But rights groups say that some Islamic conservatives have been emboldened by the success of groups like Muslim Brotherhood and the ultraconservative Salafi trend in parliamentary and presidential elections and have been increasingly brazen about forcing their standards on other Egyptians.
The incident follows a surge in legal cases against Egyptians, mostly Christians, who allegedly showed contempt for religion. The trial of one, Alber Saber, opened Wednesday but was postponed.

It also comes amid a fierce debate over how the role of religion will be defined in the country's new constitution. The preponderance of Islamists on the panel drafting the document has alarmed liberals and religious minorities.

In the village of Qurna in Luxor province, 500 kilometers (300 miles) south of Cairo, father Berbesh Khairi El-Rawi said the teacher forced the two girls to stand with their hands above their heads for two hours and then cut their hair in their school.

He told The Associated Press that he filed a complaint after the Oct. 10 incident with the prosecutor's office in Luxor. He had no further comment.

The prosecutor's office declined to comment on the case. Provincial governor Ezzat Saad confirmed the teacher had been transferred for a "shameful" act but did not otherwise comment.

The teacher, Eman Abu Bakar, could not be reached. She told the Egyptian semi-official newspaper al-Ahram that the amount of hair she cut off of the girls' heads "did not exceed two centimeters" (one inch).

Abu Bakar was quoted as saying she only resorted to cutting her students' hair after warning them repeatedly to cover their heads. After these repeated warnings, a student handed her a scissors from his bag, and that he and other students asked her to "implement" her threats.

In a photo published by Al-Ahram, Abu Bakar is shown wearing the niqab, a garment that covers everything but a woman's eyes.

Most Muslim women in Egypt wear the headscarf, but increasing numbers now wear the more conservative niqab.

Ziad Abdel Tawab of the Cairo Institute for Human Rights said the incident was alarming but not surprising.

"Whether in schools or outside schools, the general sentiment is that any abusive action, if it is justified as protection of Islam, is tolerable," he said.

Meanwhile, a Cairo court postponed proceedings in the trial of 27-year-old Coptic Christian activist Alber Saber, who faces charges of insulting religion, to November 14.

Saber was arrested last month after neighbors complained he had posted an anti-Islam film that has sparked protests across the Muslim world to his Facebook page, but investigators didn't find them. Nonetheless, Saber was put on trial and now faces a six-year prison sentence and fines.

His lawyer Ahmed Ezzat said in an emailed statement that all proceedings against Saber have involved serious legal breaches that should result in the nullifying of any evidence put forward against him.

Ezzat also said that after Saber's arrest on September 13, a police officer incited others detained in the station to attack Saber, resulting in detainees beating him and cutting him with a razor blade. A police officer at the station denied the report, speaking anonymously as he was not authorized to talk to the media.

Hassiba Hadj Sahraoui of Amnesty International said in a statement Wednesday that blasphemy cases like the one against Saber "set a dangerous precedent for the Egyptian authorities' tolerance of freedom of expression in the country."

"Criticism of religions and other beliefs and ideas is a vital component of the right to freedom of expression," Sahraoui said. "Laws - such as blasphemy laws - that criminalize such criticism violate human rights."

The rights group said that Saber's lawyers "fear for his safety in prison and outside if released. They also fear for the safety of his mother and sister who have been threatened and forced to leave their home which was surrounded by angry mobs. "