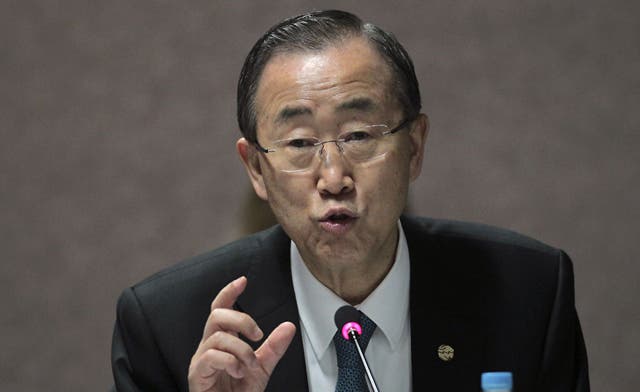 Ban Ki-moon says Hezbollah drone launch 'reckless' and threatens Lebanon stability
U.N. Secretary General Ban Ki-Moon is calling Hezbollah's drone launch into Israeli airspace a "reckless provocation."

In a report given Thursday to the Security Council, Ban also criticized Israel. He said its use of drones and fighter jets in Lebanese territory violates Lebanon's sovereignty.

The U.N. chief said he has told Lebanon's leaders that militias like Hezbollah pose serious risks "to the stability of the country and the region." He called on Hezbollah to disarm, according to The Associated Press.
Ban said the drone launched by Hezbollah earlier this month was "a reckless provocation that could lead to a dangerous escalation threatening Lebanon's stability." Israeli forces intercepted the drone.

In 2004, the Security Council passed Resolution 1559 which called for the removal of foreign forces from Lebanon, the disarmament of non-government militias, and the holding of free elections.

Ban singled out Hezbollah for its noncompliance with the resolution, calling its militia "the most significant and most heavily armed Lebanese militia in the country, reaching almost the capacities of a regular army."

Ban also condemned Hezbollah's insistence upon upgrading its military capabilities for "defensive purposes against Israel," as "blatant defiance of resolution 1559."

Lebanon has been destabilized by Syria's civil war, with cross-border clashes and shelling, arms smuggling, and assassination attempts, Ban said. He added that he was concerned about reports of Hezbollah's activities in Syria.