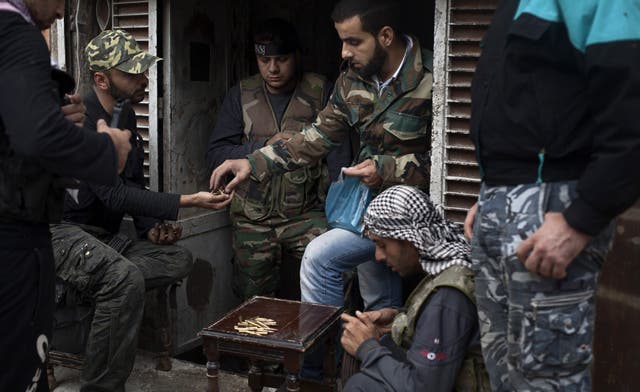 First 'pay day' for Syrian rebels in Aleppo
After months of fighting without pay, Syrian opposition force in Aleppo are receiving their first salaries, paid with money commanders say is at least in part provided by foreign states.

In Aleppo's old city area, fighters gave their names to defected Syrian military officer Colonel Abdul Salam Humaidi, who searched through lists provided by FSA commanders before paying the men in crisp $100 bills.

The opposition forces made thumbprints in ink next to their names to indicate they had been paid.
As the fighters gathered, the crack of rifle fire could be heard from elsewhere in the old city, just one of many areas in Syria's one-time commercial capital that have become battlegrounds between forces loyal to President Bashar al-Assad and the FSA fighting to overthrow his regime.

"The revolutionary military councils... are undertaking to distribute monthly salaries to the fighters, especially on the front lines," Humaidi told AFP.

All fighters are now paid $150 per month, but this may change in the future, with different salaries given to those who are married and those who are on the front lines, he said.

Humaidi said he "defected from the military after 30 years of service, because the regime is corrupt and sectarian." He is now a financial official for the opposition Revolutionary Military Council.

He declined to say where the payroll cash was from, but opposition commanders in Aleppo told AFP it came from foreign assistance and from other supporters, though they differed on the specific countries involved.

"The Military Council (is) distributing the salaries, with Qatari support... of $150 per person registered for two months," said Haji al-Bab, a commander in the Tawhid Brigade, adding that fighters who are not registered are not being paid.

Ahmed Arur, a commander in the Saqur al-Sham Brigade, said that "international assistance (and) Syrian opposition traders are paying the salaries for the Free Army."

And Sheikh Mahmoud Mujadami, a commander from the Halab al-Shahbaa Brigade, said sources of the money include "Turkey, from the Gulf states, from... Islamic states," and the Association of Muslim Scholars.

For the fighters battling the Assad regime's heavy weapons with light arms for which they sometimes even lack ammunition, the money has been a long time coming.

"We obtained salaries in the amount of $150, and we will use it for pocket money and for the family, for the house," said Mohammed al-Nasser, who has fought for six months without being paid.

He is married and has a son, but his family was able to get by with aid they received in Turkey. Now, they are back in Syria.

Ahmed al-Shawaf said he was a fighter for five months without a salary, and that while this did not personally cause his family hardship, there are "many difficulties" for a person who is "the only one working, and he stops his work because of the revolution."

He said that individual battalion commanders can decide to give fighters assistance.

Hussein Ristum defected from the police about three months ago, losing his salary.

"I was depending on the salary for my family, (but) thanks be to God, here in the Tawhid Brigade we do not need anything, food, we receive everything," he said.

Opposition forces helped his family during the time he served without pay. He said there were "difficulties, but thanks be to God, the Free Army and the guys provided housing."