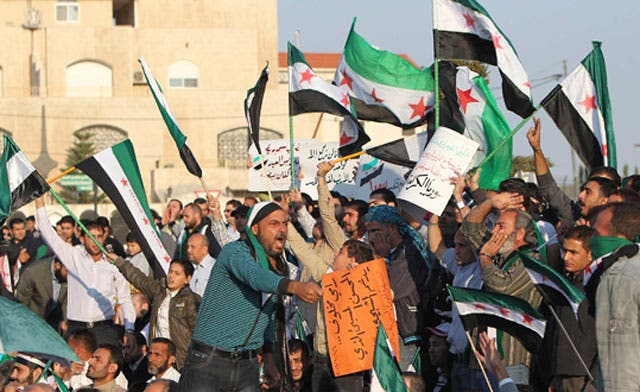 Activists report killings on truce day as Syrians protest against regime
Eight people were killed in a tank and sniper fire in the suburb of Harasta in Damascus as Syrians took to the streets to protest against regime of President Bashar al-Assad on the first day of the Muslim holiday of Eid al-Adha on Friday.

Heavy fighting broke out around a Syrian military base on Friday, the Syrian Observatory for Human Rights said, in the first major violation of a ceasefire marking the Muslim holiday.

The Observatory said rebel fighters were trying to storm the base, which is less than 1 km (half a mile) from the main north-south highway linking Damascus to Aleppo, and Assad's forces had fired artillery at a nearby village.

Anti-regime protests erupted across Syria on Friday as the army and main rebel force began to observe a ceasefire for a four-day Muslim holiday, activists and the Observatory said.

Opposition activists have called for demonstrations on their Facebook page, The Syrian Revolution 2011, with one writing: "The ceasefire is a chance to protest massively."

The protests after morning prayers to mark the start of Eid came amid a fragile calm as the ceasefire took effect following a night of fierce clashes.

The Observatory said protests had taken place in Raqa in the northeast, where security forces fired tear gas, and in the southern Deraa province, where three people were injured as police fired live rounds to disperse demonstrators.

Activists said protests also took place in Damascus and its suburbs, in second city Aleppo and the surrounding region, in the east in Deir Ezzor and in the northwestern province of Idlib.

In the Idlib village of Al-Habit protesters chanted against President Assad: "Traitor, give up, you have destroyed Syria!"

Early Friday, the observatory described the first day of Eid as "calm" in Syria as the country's President Assad is shown on state TV attending Eid's morning prayers in Damascus.

Meanwhile, Syrian state television showed President al-Assad attending morning prayers for the start of Eid at a mosque in Damascus, smiling and seeming relaxed as he chatted with other worshippers.

The Observatory said fighting had taken place overnight around the country, including in the Damascus area, in Syria's commercial capital Aleppo and in the center of the country near the border with Lebanon.

The ceasefire comes at the initiative of U.N. and Arab League peace envoy Lakhdar Brahimi. Both the regime and the main rebel force, the Free Syrian Army, have agreed to temporarily lay down their arms but reserved the right to respond to any aggression.

If the ceasefire holds, it would be the first real breakthrough in halting -- even temporarily -- the 19-month conflict that rights groups say has killed more than 35,000 people in Syria.