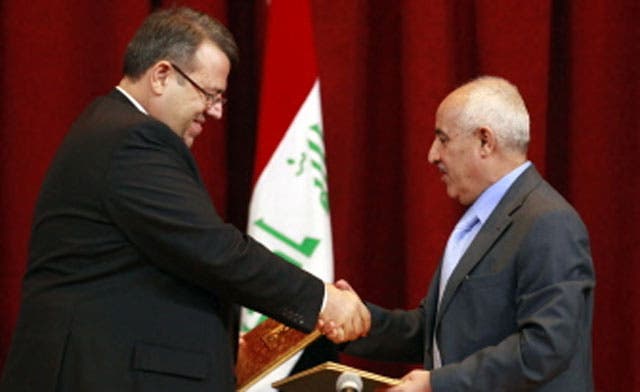 Oil-rich Iraq becomes World Bank target for contributions
With its oil output expected to continue to rise, Iraq has become the World Bank's target for financial contribution.

Deputy head of Iraq's Central Bank said last week that the World Bank asked Iraq to become a donor state by 2014.
But with the myriad challenges facing a country ravaged by years of war, Iraq is likely still far from being able to help others.

"Poverty is still rife in Iraq. Iraq continues to be a potential conflict zone. There are regular bombings in the country," Paul Sullivan, professor of economics at the National Defense University (NDU), told Al Arabiya.

Sullivan, also an adjunct professor of security studies at Georgetown University, added that while Iraq needs to rebuild its infrastructure, education, health and more, "Iraqis do have a pile of oil revenues sitting around, but poor governance, corruption, weak rule of law and more militate against the proper use of it."

He said "the World Bank is less than clueless if they think Iraq is ready to be a donor state."

"Most Iraqis remain poor in a country with massive oil reserves," Sullivan cautioned. "It is an economy that is almost completely reliant on oil. That all goes mostly through the Al-Basra Oil Terminal. If it is damaged the economy is shattered."

But Majid al-Sadi, head of Iraqi Business Council, said Iraq will be capable to be a donor country when its oil output rises. "Iraq since its inception has always been a donor county," he said, adding that its oil wealth will bring Iraq back to is "historical" position.

Sadi, however, indicated that Iraq's operational budget consumes 75 percent of its revenues, which is why its donations will not be too generous in the short term. Before the 2003 invasion, Iraq provided billions of dollars in aid to other countries, including the neighboring Jordan.

The business council chief added that the money spent on the country's infrastructure since the fall of Saddam Hussein's regime in 2003 was not only "cosmetic."

"There is no correct equilibrium between oil revenues and investments; there is a lot of money wasting, ill and indecisive planning and the reluctance of Arab and foreign investors to come to Iraq due to the country's foggy legislations and political squabbling."

While the Central Bank boasted in August the increase of foreign-exchange reserves to $67 billion, the highest in Iraq's history, auditors in the country warned that $800 million is moving outside the country every week.

International Energy Agency predicts that Iraq will raise its oil output to reach 6.1 million barrels a day in 2020. But the Iraqi Ministry for Energy Affairs inflated the figure and said in October that the country is targeting to produce between 9 million and 10 million barrels a day.

Iraq sits atop of 143.1 billion barrels of proven oil revenues and 126.7 trillion cubic feet of natural gas.