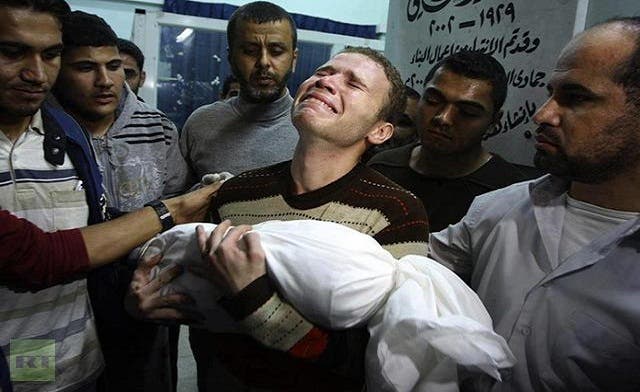 Photo of journalist carrying dead son in Gaza spurs online grief
The death of a journalist's 11-month-old son in Gaza on Wednesday has prompted a flood of poignant messages online -- and media speculation -- when pictures of Jihad Misharawi, a BBC Arabic video editor, showed him carrying the body of his dead son.

Mishrawi's son, Omar, was killed after Israeli airstrikes on the Gaza Strip fell on his Gaza home, according to the BBC.

Omar is among 16 people killed in Gaza since Wednesday afternoon, including four children, according to Al Arabiya correspondents. Fighting began when Israel's targeted killing of Hamas military chief Ahmed Jaabari on Wednesday. Since then, Palestinian fighters have fired around rockets over the border.
The death of Mishrawi's son at first prompted anger from online commentators and news blogging sites, particularly when the poignant went viral on social media networks, photo over the BBC's alleged lack of, or minimal, reporting on the killing.

"When BBC ignores Israeli murder of its own cameraman's baby, what hope for other Palestinians?" an article on The Electronic Intifada blogger/ activist-based website questioned, alleging that the broadcaster "totally ignored" the killings on its Wednesday night news bulletin.

Meanwhile, Middle Eastern news site Al-Bawaba attacked the BBC website, claiming the broadcaster reported online that the Israeli raid had "targeted Gaza militants," failing at first to mention the killings of the 11-month-old baby, among other children.

But the BBC had in fact quickly spoken out about the death of baby Omar. At first, the news spread internally.

BBC World editor Jon Williams sent a memo about the young child's death to colleagues, according to The Telegraph:

Our thoughts are with Jihad and the rest of the team in Gaza.
This is a particularly difficult moment for the whole bureau in Gaza.
We're fortunate to have such a committed and courageous team there. It's a sobering reminder of the challenges facing many of our colleagues.

Also, an article on the BBC news website on Thursday included a video of the BBC Arabic's Misharawi, with the caption: "What did my son do to die like this?"

An Israeli round hit Misharawi's four-room home in Gaza Wednesday, killing his son, his sister-in-law and wounding his brother, according to BBC Middle East bureau chief Paul Danahar.

Danahar spoke to a Washington Post writer, saying that when the round landed, there was no fighting in his residential neighborhood.

"We're all one team in Gaza," Danahar told Max Fisher, saying that Misharawi is a BBC video and photo editor.

After spending a "few hours" with his grieving colleague, he wrote on microblogging site Twitter, "Questioned asked here is: if Israel can kill a man riding on a moving motorbike (as they did last month) how did Jihad's son get killed," wrote Fisher.