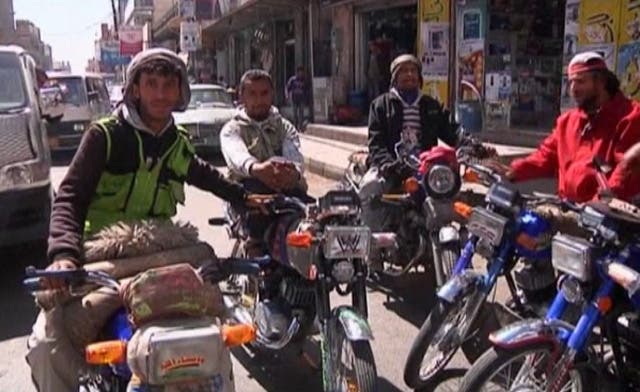 Yemeni riders protest government crackdown on motorbikes
Dozens of motorcyclists rallied outside Sanaa's Municipal building on Thursday in protest against a recent government decision that requires they have a registered license plate on their motorbikes.

The Yemeni Interior Ministry introduced the measures on Thursday in a bid to counter attack what they say is a spread of assassinations of military and security figures that involve al-Qaeda affiliated militants riding on motorbikes.

Demonstrators hoping to revert the new law say their livelihoods depend on their ability to move around on a motorbike, which they use their main source of travel through the congested streets of the capital.

"Those that own a motorbike and are known are working, and they do not do what is claimed [drive-by assassinations] and that they are al-Qaeda. The al-Qaeda have their own people," said demonstrator Ali Mahdi.

The Interior Ministry said last week the new measures would be applied in all provinces across Yemen to deter the use of motorbikes by militants.

"Most of the motorcycles on the street are not registered, and this a problem that we face when we want to seize any bike that is used in a political assassination," said Brigadier Omar Abdulkarim, the head of traffic security in Sanaa.

On October 24 masked gunmen on motorbikes shot dead a counter terrorism official in the south of Sanaa. A similar failed attempt was made on the life of the mayor of Sanaa, Abdulkader Ali Hilal, on the same day.

"So far 72 political security [intelligence] officers have been assassinated this year. Many of them were killed by armed men on motorbikes, which have also been used as booby traps, like the bombing outside a mosque in Saada more than two years ago," said Aadel al-Ahmadi, editor of the Nashwan News website.

Analyst Abdulrazzaq al-Jamal said he was skeptical the new regulations would decrease attacks.

"Getting the motorcycles registered does not mean that al-Qaeda attacks will end. In 2010, the Yemeni government banned motorcycles in Lahej province, but that could not affect the acts of al-Qaeda that remained active."

Many riders that were protesting the new measures argued their main difficulty would be meeting the steep charges of getting their motorbikes registered.

"We ask [from the government] to reduce the price of customs duties, we hope they do that. I mean the customs duties cost 40 to 50 thousands [Rials]. Where can we get it from? We can't spend that on anything except our home. How can we get that money," said demonstrator Nashwan Mohamed.

"We demand from the authorities to cut the customs tariffs. I use all the money I make every day to support my family. How can I pay 40,000 or 50,000 Rials to pay for the registration," added Aadel al-Ahmadi.

According to police estimates, the number of motorcycles used as means of transportation in Yemen has risen from about 100,000 motorcycles in 2010 to more than 250,000 in 2012.

Police authorities attribute the lack of accurate statistics to the fact that many of these motorbikes have been smuggled into the country and largely do not have customs data and operate illegally.

Officials say the use of motorbikes in political assassination attempts by armed gunmen have been on the rise since Yemen's political crisis began in 2011.