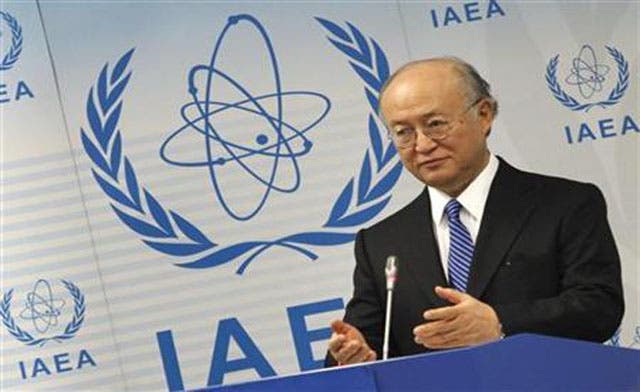 IAEA says Iran ready to double nuclear work in bunker
Iran is set to sharply expand its uranium enrichment in an underground site after installing all the centrifuges it was built for, a U.N. nuclear report showed on Friday, a move that could increase Western alarm about Tehran's nuclear course.

The latest quarterly International Atomic Energy Agency report on Iran came 10 days after the re-election of U.S. President Barack Obama, which raised hopes for a revival of nuclear diplomacy with Iran following speculation that Israel might bomb the nuclear facilities of its arch-enemy soon.

The Islamic state has put in place the nearly 2,800 centrifuges that the Fordow enrichment site, buried deep inside a mountain, was designed for, and is poised to double the number of them operating to almost 1,400, according to the confidential IAEA report obtained by Reuters.

"They can be started any day. They are ready," a senior diplomat familiar with the IAEA's investigation said.

If Iran chose to dedicate the new machines to produce higher-grade uranium, it could significantly shorten the time it would require for any bid to build an atomic bomb. Iran says it needs to refine uranium to make reactor fuel.

Tehran has produced about 233 kg (512 pounds) of higher-grade enriched uranium since 2010, an increase of 43 kg since August this year, according to the report issued in Vienna.

That could be sufficient for one bomb, security experts say. But the Iranians have fed about 96 kg of the uranium refined to 20 percent of fissile concentration for conversion into fuel for a medical research reactor in Tehran, the report said.

Such conversions make it harder for the material to be processed into 90 percent, or bomb-grade, enriched uranium and could be a step by Tehran meant in part to counter Western suspicions of a covert atomic bomb program.

But the stockpile of 20 percent uranium gas has still grown by nearly 50 percent to 145 kg in the last three months, approaching the amount required for a nuclear weapon.

The IAEA report also said that "extensive activities" at the Parchin military compound - an allusion to suspected Iranian attempts to remove evidence - would seriously undermine an agency investigation into indications that research relevant to developing a nuclear explosive were conducted there.

It is "necessary to have access to this location without further delay", the report said.
?Window of time for democracy
Tehran denies U.S. and Israeli allegations that it is seeking a nuclear weapons capability, saying its program is entirely for peaceful energy. But U.N. inspectors suspect past, and possibly ongoing, military nuclear activity.

Obama this week said he believed there was still a "window of time" to find a peaceful resolution to the long standoff with Iran. But the IAEA report underlined the tough task facing Western powers pressing it to curb its nuclear program.

Fordow particularly worries the West as it is where Iran refines uranium to 20 percent purity, compared with the 3.5 percent level usually needed for nuclear energy plants.

Iran says it must do this to make fuel for the Tehran research reactor, but it also represents a major technical leap towards the threshold suitable for nuclear weapons.
The fact that Fordow is buried deep underground makes it less vulnerable to any air strikes, which Israel has threatened if diplomacy fails to stop Iran acquiring the means to produce atomic bombs.

The conversion of 20 percent uranium into fuel is reversible as long as it has not been introduced into a working reactor, but it would take a few months to turn it back into gas form.

This may explain why Israel, assumed to be the Middle East's only nuclear-armed state, recently signaled that an attack on its arch-enemy's nuclear sites was not imminent, after months of talk that it might be on the cards soon.

The question of when and how quickly Iran might be able to assemble an atom bomb if it chose to do so is hotly debated because it could influence any decision by Israel to take military action - a step many fear would blow up into a broader Middle East war that would batter a stumbling global economy.

The IAEA report said Iran had removed fuel from the core of its first nuclear power plant, near the town of Bushehr on the country's Gulf coast, indicating a possible new problem in operating the long-delayed Russian-built facility.

The diplomat said the plant had been shut down as a result, but gave no further details.