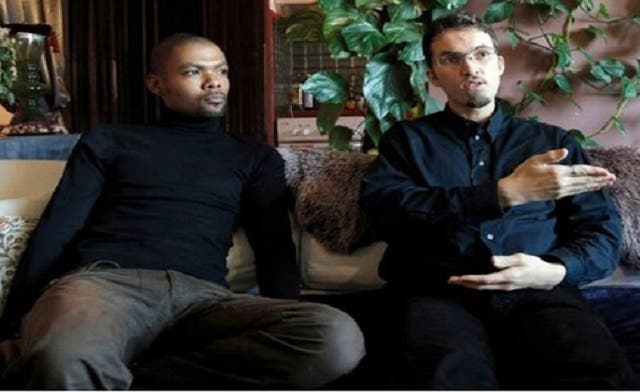 Against all odds, 'Mosque for gays' to open in France
An Algerian homosexual man is planning to open a "mosque for gays" in France by the end of the month, which sets to be a place of worship for Friday prayers at first, then will hold same-sex Muslim marriages.

Mohammed Ludovic Lütfi Zahed, an Algerian Muslim living in France who is married to his gay partner, has been trying to open the mosque for homosexuals.

The couple risks the ire of the French Muslim community. Long-battling with stereotypes and discrimination, the Muslim and Arab world's gay communities has maintained it has been vilified by public opinion, where homosexuality has been viewed a religious, cultural and even political taboo.

"In normal mosques, women have to sit in the back seats and wear a headscarf and gay men are afraid of both verbal and physical aggression. After performing the Hajj, I realized that a mosque for gays was a must for gay Muslims who want to perform their prayers," Zahed told Turkey-based newspaper Daily Hürriyet this week.

He said: "After my first night with a man, I realized that I was gay. I have found out that I had been pushing down my feelings with the help of Islam," he said.

Asked how Zahed will set up a mosque for the Muslim homosexual community, he said: "We will use a hall in a Buddhist chapel, which will be opened on Nov. 30," adding that in the new mosque women and men would be able to perform their prayers together in the same space.

More than 100,000 people turned out Saturday across France for rallies against government plans to approve same-sex marriage and adoption, as police clashed with counter-demonstrators in one city.
Marriage
In April, the couple tied the knot in France with the blessing of an imam.

Zahed and his South African partner Qiyam al-Din, were reportedly married in accordance to the Shariah (Islamic law) in the presence of a Mauritian imam named Jamal who blessed their union on February 12, 2012, according to a report in Al-bawbaba on April 2.

The two were previously able to marry in South Africa under the country's same sex marriage laws, which also permits gay couples to adopt but France does not recognize same sex unions.

Zahed shared his story with France 24 TV, telling the channel how he met Din last year at a convention on AIDS in South Africa.

"I was in the lecture hall when an imam, who incidentally is gay himself, introduced me to Din. We discovered we had a lot in common and a mutual admiration was cemented. I stayed on after the convention for two months, deciding to get married, since South African laws were more friendly [to same sex unions]," he said at the time.

After the wedding that was organized by Din's family, the couple decided to return to France and settle down in a Parisian suburb, hoping that the French government would recognize the legality of their marriage.

But the French authorities refused.

Zahed, who has his family's blessings for the marriage, says that he faces more obstacles with the French law than discrimination from Muslims.

Although his legal settlement was still pending, Zahed decided to make his wedding a family affair, with his trusted Mauritian imam in tow. The marriage took place in a modest house in Servon on the outskirts of Paris, and was attended by his parents and few close friends.

"Being married in front of my family, was like a new start of life for me, I could have never imagined such a day would come, seeing the joy in my parents' eyes after they had battled with my sexuality and tried with all their might to change the course of my sexual orientation," he said.
Against all odds
Zahed was diagnosed with AIDS at the tender age of 19, but the illness gave him a new purpose in life and drew him closer to religion.

"I turned to worship and prayer to [battle] the situation; I became religious, and I performed Umra then Hajj twice, seeking a simpler, normal life.

Despite the threats that I get by phone or from the Internet, as well as, my struggle with the negative views that I get from Arabs and Muslims alike, today I feel more comfortable in my own skin," he said.

Zahed wants to pursue his doctoral studies in Islam and homosexuality and he also heads an organization that researches issues relating to Islam and homosexuality. He said his absolute priority is to get a legal permit for his new spouse to stay and work in France.

The couple does not intend to travel to an Arab or Muslim nation for fear of being discriminated against. "We want to stay in France, because my husband really likes this country. However, if it becomes impossible for him to stay, we will return to South Africa to live," Zahed told France 24.