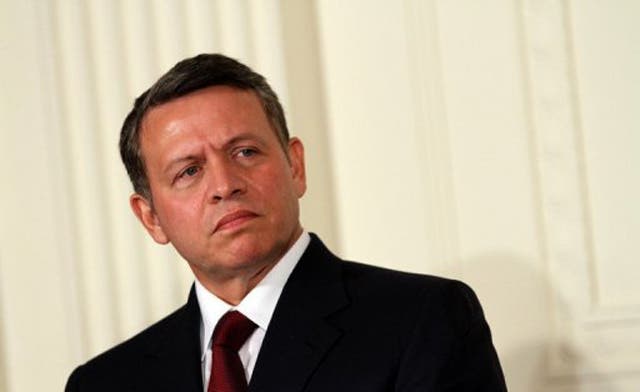 Jordan king arrives in Ramallah after U.N. vote
Jordanian King Abdullah II arrived in the West Bank city of Ramallah on Thursday for the first visit by a top foreign leader since the Palestinians gained upgraded United Nations status.

The Jordanian monarch arrived by military helicopter from Jordan, landing at the presidential headquarters known as the Muqataa, where he was greeted by Palestinian president Mahmud Abbas and other senior Palestinian officials.
"We and our Palestinian people and its leadership welcome this historic visit, which comes after Palestine became a (non-member) observer at the United Nations," presidential spokesman Nabil Abu Rudeina said in a statement on official news agency WAFA.

The Palestinians "highly appreciate the important role his majesty and Jordan played internationally and regionally and at the U.N. to achieve this important historical achievement," the statement said.

The Jordanian king was welcomed by a military honor guard at the Muqataa, where Jordanian flags where raised alongside Palestinian ones.

The monarch was accompanied by a delegation including his Prime Minister Abdullah Nsur and Foreign Minister Nasser Judeh.

The visit is the first time a head of state has visited Ramallah since the Palestinians won non-member observer state status at the United Nations on Nov. 29.

The 138-9 vote at the General Assembly was cheered by many Palestinians, although they acknowledged it will change little on the ground in the short term.

But the move was fiercely opposed by both Israel and the United States, with the Jewish state quickly announcing punitive measures in response.

It announced new settlement construction since the bid was approved, including in a highly sensitive West Bank area known as E1, where observers say Israeli construction would effectively end the chance of a viable Palestinian state.

Israel has also said it will withhold the tax and tariff revenue it collects on behalf of the Palestinian Authority for the month of November, in response to the U.N. bid.

The Palestinians are expected to ask Arab League nations for additional funding to make up the shortfall in revenue. The cash-strapped Palestinian Authority is also facing the loss of U.S. aid because of the move.