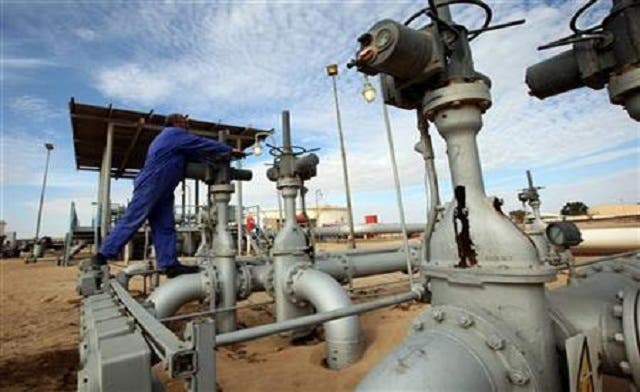 Libya's interim govt may seek new oil bids
Libya could proceed with a new round of oil exploration and production agreements in the current transitional period but the priority for now is to maintain pre-war output levels and future targets, the OPEC member's new oil minister told Reuters.

The North African country has lifted oil output faster than analysts had expected to around 1.5-1.6 million barrels per day (bpd) after last year's war, which ousted Muammar Gaddafi.

"Our priority is to maintain the production at 1.5 million barrels per day," Abdelbari al-Arusi said in his first major interview with international media since he was sworn in.

"We now have our target to increase production (by) 100,000 barrels per day for the coming few months, and then we're planning to drill more wells to increase our production rate."

Libya's National Oil Corporation (NOC) aims to boost oil output to 1.72 million bpd by end-March but has warned of the risk that strikes could interrupt production.

The new minister reiterated Libya's target of increasing output to 2 million bpd by 2015.

Arusi, who is from the western town of Zawiyah, took office a few weeks ago to replace Abdulrahman Ben Yazza as minister in an interim government in place until a new round of elections, which will follow the drafting of a constitution next year.

"Our period here will only be 15 months, and we're going to work on both sides - short-term and long-term plans," he said.

He said Libya would review its last round of Exploration and Production Sharing Agreements (EPSA) and "come up with the right solution for new negotiations in the future".

Until late 2004, Libya's unexplored territory had been off-limits for decades because of sanctions. In the last bidding round, after that land opened up and a scramble for acreage ensued, companies accepted some of the industry's tightest exploration and production deals.

"This EPSA IV (the last round) will be reviewed for the interest of the Libyans and for our partners. A lot of companies have complained about this EPSA IV; we don't like people to lose, because this is a win-win business," Arusi said.

Asked whether Libya is likely to see another licensing round within the next 15 months, he said, "Could be, I am not sure, could be; it depends on the situation here in Libya".

Other senior Libyan oil officials have previously said there would be no new deals for at least a year.
OIL PRICES "REASONABLE"
Ahead of OPEC's Dec. 12 meeting in Vienna, Arusi described recent oil prices levels at around $110 a barrel as "reasonable". Brent crude fell nearly 4 percent last week to around $107.

Asked whether he saw any need for OPEC to change its output target of 30 million bpd at the meeting, he said: "I cannot say right now. I have to look at it and then we will decide."

Arusi has announced a proposal to separate Libya's exploration and production activities from refining, shaking up the running of its key industry by creating two separate bodies that would be based in Tripoli and Benghazi.

In a move that could be seen as appeasing calls for more authority in the oil-rich east, the responsibilities of the Tripoli-based NOC would be carved up. The capital would be the headquarters for an exploration and production company, and a separate company headquartered in Benghazi would deal with refining and petrochemicals.

"We got good feedback from people ... After we get the approval (from the government and national congress), we will start immediately," he said. "We are going to do it in phases."

Since the end of the war, workers in the east have called for more powers in a region accounting for around 80 percent of Libya's oil wealth. Some have also called for a local company headquarters in the east as well.

"We have no objection to transfer any company anywhere in Libya if a feasibility study says so. We have to do it that way," Arusi said, adding the calls were related to jobs.

He said the proposal to split the NOC would also create a new company, based in Benghazi and with regional branches, which would deal with the construction of pipelines and plants.

Officials have spoken of plans to create a protection force to guard Libya's oil installations, uniting the thousands of ex-rebel fighters now standing guard after the war. Arusi said this was the responsibility of the defense and interior ministries but that progress was being made.

Better security is important to foreign companies operating in Libya. Foreign oil companies returned after the fighting, but Libya is still waiting for oil service firms to return in a significant way to working in the desert fields.

"We think the security situation in Libya is improving. We are inviting foreign companies to come here to participate in providing services to the oil industry. We need them," the minister said.

Arusi, who was imprisoned for eight years under Gaddafi, was relatively unknown to the industry before his appointment. He worked at Libya's Sirte Oil for 16 years, as an engineer and expert in corrosion at the Marsa El-Brega terminal in the east.