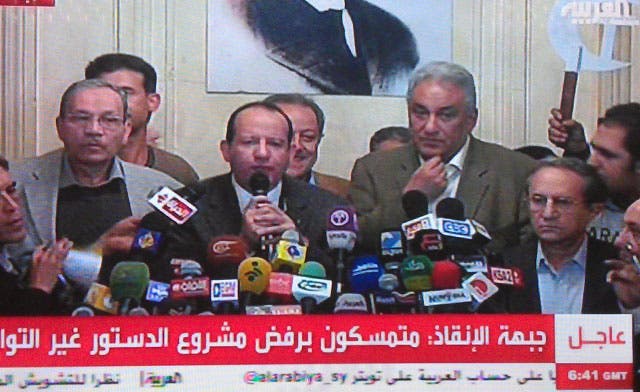 Mursi, Brotherhoods hijacking Egypt: National Salvation Front
Egypt's main opposition group the National Salvation Front (NSF) rejected on Sunday constitutional referendum, accusing President Mohammed Mursi and the Muslim Brotherhood movement of "hijacking" the country.

"We do not recognize the draft constitution because it does not represent the Egyptian people," the statement said. "We reject the referendum which will certainly lead to more division and sedition," he said.
In a statement read by a coalition spokesman, the Salvation Front said, "Egypt now is in a real revolution against the rule of the Brotherhood."

The opposition coalition said President Mursi is driving the country toward violent confrontation that threaten national unity, calling for mass rallies on Tuesday.

"The Front calls for demonstrations in the capital and in the regions on Tuesday as a rejection of the president's decision that goes against our legitimate demands," spokesman Sameh Ashour said.

The statement also condemned "militias" from the Muslim Brotherhood backing Mursi and "terrorist gangs."

The protest call meant Egypt's weeks-long political crisis was to continue, despite Mursi on Saturday making a key concession to the opposition by rescinding a controversial November decree that had given him expanded powers free from judicial review.

Tuesday's demonstrations could lead to more violence after Mursi's supporters said they would challenge them.

A coalition called the Alliance of Islamist Forces "is calling for a demonstration Tuesday under the slogan 'Yes to legitimacy'," in support of a constitutional referendum championed by Mursi, Brotherhood spokesman Mahmud Ghozlan told AFP.

The rival rallies in Cairo raise the potential for clashes such as those that erupted last Wednesday, killing seven people and wounding hundreds.

The coalition, which includes the Brotherhood and its political wing the Freedom and Justice Party (FJP), as well as Salafist political groups, said on Saturday it was against postponing a referendum on a new draft constitution, which has become the focal point of Egypt's current crisis.

The Saturday statement stressed the "need to carry out a referendum on the constitution on its due date without any alterations or delay," warning that "all options are open to the Islamist forces to preserve legitimacy and elected state institutions."

Egypt's worst political crisis since Mursi was elected in June started with calls for him to repeal a November decree granting him sweeping new powers and was exacerbated by the new charter, drafted by an Islamist-leaning panel, which is set for a referendum on Saturday.

Mursi repealed the decree late on Saturday night but opposition protesters had already begun calling for Mursi to go altogether.